2023 Dodge Charger Super Bee Joins V8 Farewell Parade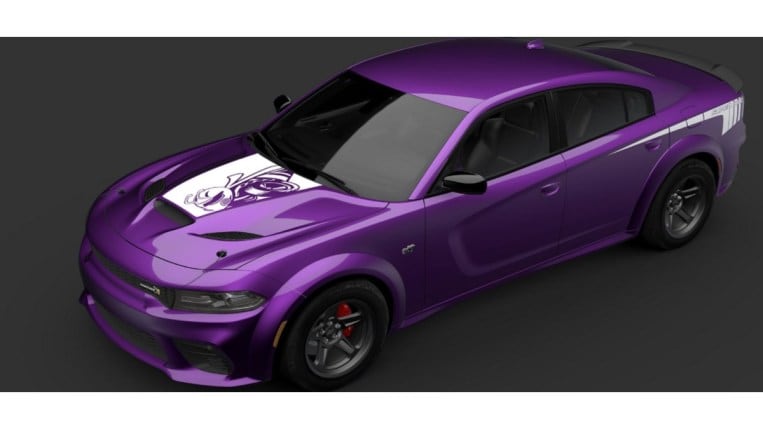 2023 Dodge Charger Super Bee Price: TBA, but we expect to see it around $86,000.
Sometime between the 1967 debut of the Super Bee and the appearance of this, the 2023 Charger Super Bee, Dodge gave up on subtle. Subtle doesn't work for Dodge. But people who want a car that whispers its intentions can buy something else.
The Last Call
First, the rough news. Dodge has split its fanbase with a difficult but inevitable decision.
The automotive industry has started a shift that will probably see it selling more new electric cars than new gas-powered cars within a decade or so. Some rivals have announced end dates for their internal combustion lines — most of which are either 2030 or 2035.
At least three states have taken steps to ban sales of new gas-powered cars by 2035.
Dodge knows it can't pay the bills selling big, rear-wheel-drive, V8-powered muscle cars in that world. So it's started leading the fans it calls the Brotherhood of Muscle to make a mental shift. Last month, it showed off its future and started a farewell tour for its past.
That future is an electric muscle car, complete with aggressive driving sounds and an actual transmission that shifts.
The past is the Challenger and Charger, with the 2023 model year being the last for both. Dodge will send each one off with seven Last Call special editions. They'll hit dealerships like albums on Record Store Day — no pre-orders, just a limited number sent to each showroom and first-come, first-served sales.
The first Challenger Last Call edition — the Shakedown — came last week.
Now we have the first of the Chargers. It wears a name from Dodge's golden age — the Charger Super Bee.
Bee History
The original Super Bee appeared for the 1968 model year. It was a muscle car based on the bones of the midsize Dodge Coronet coupe, but with a heavy-duty suspension, performance tires, and a hood scoop feeding air to a choice of three big block V8 engines.
That Coronet platform, by the way, was called the "B platform" internally. The most powerful B platform car was the Super B. Designers had fun with the name, by 1960s standards, designing a cute little logo of a bee with a racing helmet on a pair of slick wheels. They cast small medallions with the logo and placed them on the grille and trunk lid in place of the usual Dodge logo. You could miss them if you weren't looking for them.
Bee Present
The new Super Bee is available in standard and wide-body formats, limited to 500 of each.
It uses some of the same tricks as its forebear. There's a hood scoop feeding the 6.4-liter Hemi from the Charger Scat Pack, good for 485 horsepower. It carries the Scat Pack's adaptive suspension with a drag mode.
And it improves on the older Super Bee's biggest trick with a set of barely-street-legal drag racing tires. Swapping in different rubber is one of the most effective ways to get more performance out of a car. Here, Dodge gives standard-body models 20-inch wheels with 275mm tires. Wide-bodies get smaller 18-inch wheels but wider 315mm rubber.
Standard-body Super Bees come only in B5 Blue. Wide-body models are in the glorious glossy purple Dodge calls Plum Crazy.
And that bee logo? It's here. But it's no medallion, and you're not going to miss it. It's on the hood scoop, in a white stripe, taking up more than a third of the car's width. If you somehow miss that you're sitting next to a Super Bee in traffic, the words "Super Bee" are on a white stripe on the rear quarter panels as well.
Inside, you'll find the content from the carbon/suede package, plus Super Bee logos on the seats and instrument cluster.
Dealers will start selling bees "later this fall," Dodge says. While you have to line up to buy one, Dodge will post details of when and where they'll appear on its DodgeGarage website.