2023 Electrified Genesis G80 Starts at $79,825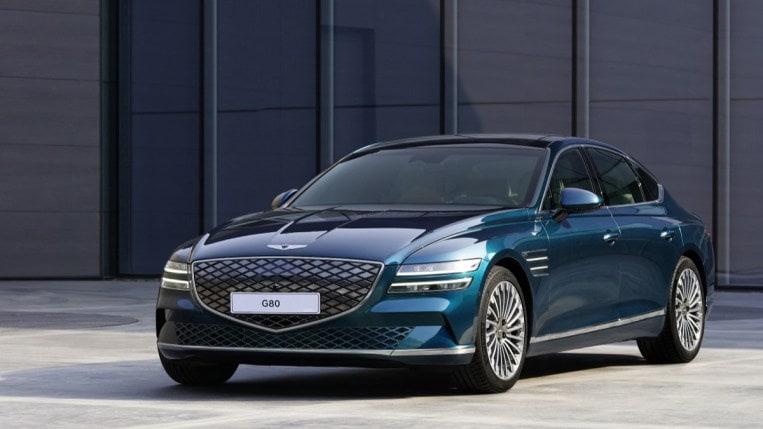 The second electric car from Genesis will start just below $80,000 and come in a single trim level with just about every feature the Korean automaker knows how to build.
The 2023 Genesis Electrified G80 is exactly what the name explains – an all-electric version of the brand's G80 luxury midsize sedan. It comes on the heels of the recently introduced GV60 electric SUV.
The Electrified G80 carries a sticker price of $79,825, plus $1,095 for delivery. Some paint colors cost more than others, which is the only thing that can change the price. There's nothing left out to add as an option.
Praise for Ride, Handling
Since Hyundai's luxury division is still working its way into the American consciousness, the G80 it's based on isn't the most well-known luxury car on the market. But it's been a critical success, with reviewers praising its handsome lines and long list of standard equipment. None of that changes when you go electric.
Our test driver found that the Electrified G80 "isn't exactly a sports sedan, but it plays willingly on mountain roads. Grip is great, and the steering feel is above average." It uses a pair of electric motors – one per axle – for all-wheel-drive grip and 365 total horsepower.
Parked next to a standard G80, you can spot the electric one by its grille. Electric cars don't need grilles — there's nothing under the hood to cool. Genesis designers pulled off an elegant trick, inverting the G80's usual wide-diamond mesh with chrome where the spaces would be. Otherwise, the only visual difference is the lack of tailpipes.
Sustainable Materials, Noise Canceling Tech
Inside, Genesis has gone for elegant sustainability. Leathers are tanned with organic dyes. Wood trim is recycled waste wood from furniture factories. Heated-and-cooled massaging front seats are standard. An active noise cancelation system "reduces the level of noise significantly by measuring and analyzing road noises with four sensors and six microphones inside the vehicle, and by simultaneously creating sounds at opposite phase."
Only Available in Four States for Now
For now, only Genesis dealers in California, Connecticut, New Jersey, and New York have access to the Electrified G80. Genesis plans to add Arizona, Nevada, Utah, and Washington to that list next month as part of a slow rollout that will eventually see the car available everywhere.