2023 Ford F-150 Tremor to Get Standard V8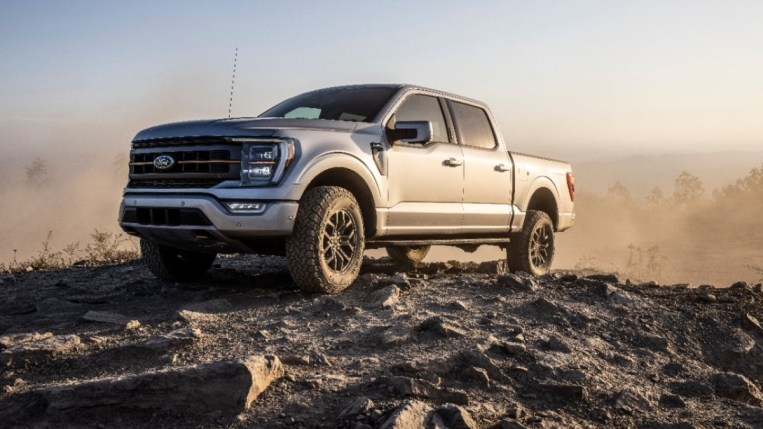 Ford recently gave the latest generation of its off-road super-truck, the
F-150
Raptor, the option of a V8. A 3.5-liter V6 powers the standard 2022 Raptor.
The 2023 F-150 Raptor R
gets a monstrous 700 horsepower from the same supercharged V8 as the
Mustang Shelby GT500
.
But the Raptor has little brothers. They want in on the action, too.
Middle Brother Gets a V8
Ford includes two other off-road specials in the F-150 lineup. The Tremor is the middle brother. It takes the standard F-150 and adds upgraded suspension, higher ground clearance, a skid plate, off-road running boards, and similar gear to equip the truck for trail duty. But it forgoes some of the Raptor's more extreme upgrades to keep the price reasonable. The 2022 Tremor comes in more than $16,000 cheaper than its big brother, with a starting price of $54,120, plus a $1,795 destination charge.
Like the Raptor, it has come standard with a V6 engine. For 2023, it's getting a power upgrade. An ordering guide published to the  F150Gen14.com enthusiast forum lists a 400-horsepower 5.0-liter V8 as standard equipment for 2023. The current 3.5-liter twin-turbo EcoBoost V6 is listed as an option.
A Ford spokesperson this morning confirmed that the guide is authentic.
The document doesn't list pricing. We expect to know more in a few weeks.
And the Last Born? We Don't Know Yet
And you're wondering, now, about the third brother.
The F-150 Rattler is all new for 2023, and we still don't know much about it. It shares the skid plates, locking rear differential, and all-terrain tires of Ford's other trail trucks. But it is designed to slot in at a lower price level and probably sticks with the 2.7-liter EcoBoost turbo V6 engine of the base model F-150. We're still waiting for confirmation of details.
The Rattler goes on sale this fall, so we expect to have them soon.