2023 Kia Sorento Hybrid vs. 2022 Toyota RAV4 Hybrid Comparison
Hybrid SUVs are gradually becoming more common. This is good news for drivers who like the idea of SUV versatility with hybrid fuel economy. Two solid choices in this segment are the hybrid variants of the Toyota RAV4 and Kia Sorento.
We should start off by pointing out that the RAV4 is a compact SUV and the Sorento is more of a small midsize SUV, so they technically compete in different classes. It's also worth noting that they both have plug-in hybrid variants available at a higher price. The plug-in models have larger battery packs that can be recharged, and are capable of running on electricity alone for about 30 to 40 miles.
Let's take a closer look at these hybrid SUVs and find the right one for you.
2023 Kia Sorento Hybrid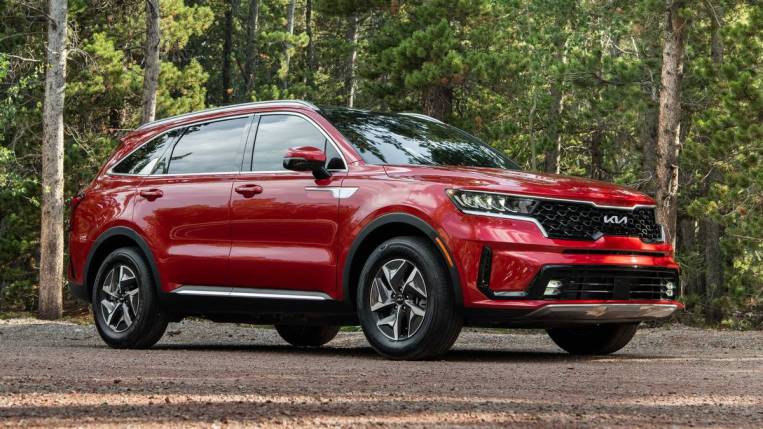 The Kia Sorento is smaller than most 3-row SUVs, but that makes it a just-right size for more shoppers than they may realize. Its hybrid option has all of the virtues of the gas-powered model but with better fuel economy. Pricing starts at $36,590.
Kia Sorento Hybrid Highlights
Three-row seating: One of the biggest differences between the Sorento and the RAV4 is that the Sorento has standard 3-row seating, while every RAV4 has 2-row seating for five. The Sorento Hybrid also offers second-row captain's chairs which improve comfort for the passengers and make the third row easier to access.
Turbo performance: The turbocharged hybrid powertrain in the Sorento hybrid has more power and significantly more torque than the RAV4 Hybrid. Hybrids aren't normally known for being fun to drive, but the Sorento Hybrid has a bit more muscle than you might expect thanks to a hearty 258 lb-ft of torque.
Excellent warranty: The trustworthy Kia Sorento Hybrid is backed by a 5-year/50,000-mile basic warranty and a 10-year/100,000-mile powertrain warranty. By comparison, the RAV4 Hybrid has a 3-year/36,000-mile basic warranty and a 5-year/60,000-mile powertrain warranty.
Check this week's Fair Purchase Price or see the Sorento Hybrid models for sale near you.
2022 Toyota RAV4 Hybrid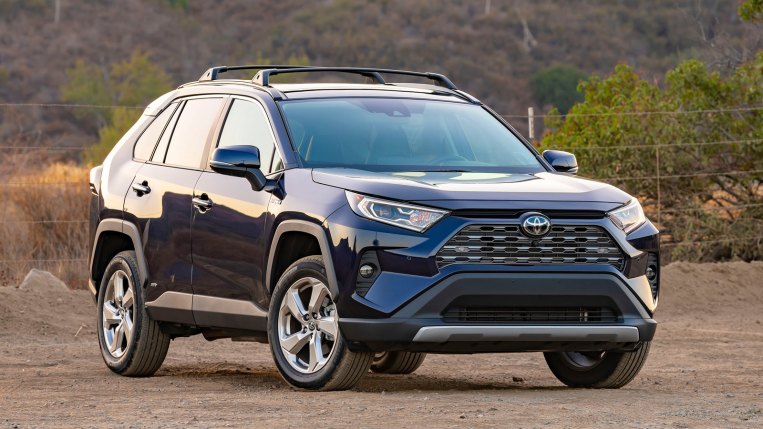 The Toyota RAV4 is America's best-selling SUV because of its famous reputation for practicality, value, safety, and reliability. If you want the best fuel economy, you'll be interested in the hybrid model. Pricing starts at $29,575.
Toyota RAV4 Hybrid Highlights
More efficient: The RAV4 Hybrid achieves a combined fuel economy rating of 40 mpg, which is especially impressive when you consider the fact that all-wheel drive (AWD) comes standard. The bigger Sorento Hybrid gets 37 mpg with front-wheel drive (FWD) and 34 mpg with AWD.
More affordable: Since it's a smaller SUV than the Sorento, the RAV4 Hybrid has a lower starting price by a considerable margin. Even the top Limited trim of the RAV4 Hybrid is more affordable than the base trim of the Sorento Hybrid with AWD.
Many trim options: The Sorento Hybrid only has two trim options, but the RAV4 Hybrid has six. From the base LE model to the luxurious Limited model and several more options in-between, there's a RAV4 Hybrid for everyone in the market for an efficient compact SUV.
Check this week's Fair Purchase Price or see the RAV4 Hybrid models for sale near you.
Similarities
Good standard safety and infotainment tech, 4-cylinder hybrid powertrain, great safety scores, similar reliability ratings, upscale interiors
Conclusion
Which of these SUVs is right for you depends on your needs. If you require 3-row seating, then the Sorento Hybrid is the clear choice, plus it benefits from an excellent warranty and quick acceleration. The RAV4 Hybrid is the more affordable and fuel-efficient choice, but you can't get one with 3-row seating.
| | | |
| --- | --- | --- |
| | 2023 Kia Sorento Hybrid | 2022 Toyota RAV4 Hybrid |
| Starting Price | $36,590 | $29,575 |
| Popular Powertrains | | |
| Engine | 1.6-liter turbocharged hybrid 4-cylinder | 2.5-liter hybrid 4-cylinder |
| Horsepower | 227 @ 5,500 rpm | 219 hp @ 5,700 rpm |
| Torque | 258 lb-ft @ 1,500 rpm | 163 lb-ft @ 3,600 rpm |
| Transmission | 6-speed automatic | CVT |
| Fuel Economy | 39 city/35 highway/37 combined mpg | 41 city/38 highway/40 combined mpg |
| Also Available | AWD, plug-in hybrid | Plug-in hybrid |
| Specs | | |
| Basic Warranty | 5 years/60,000 miles | 3 years/36,000 miles |
| Powertrain Warranty | 10 years/100,000 miles | 5 years/60,000 miles |
| NHTSA Overall Safety | Not rated | 5 stars |
| Max Seating Capacity | 6 | 5 |
| Wheelbase | 110.8 inches | 105.9 inches |
| Overall Length | 189.4 inches | 180.9 inches |
| Width | 74.8 inches | 73.0 inches |
| Height | 66.7 inches | 67.0 inches |
| Turning Diameter | 37.9 feet | 36.1 feet |
| Headroom, 1st row | 40.3 inches | 37.7 inches |
| Headroom, 2nd row | 39.1 inches | 39.5 inches |
| Headroom, 3rd row | 36.8 inches | N/A |
| Legroom, 1st row | 41.4 inches | 41.0 inches |
| Legroom, 2nd row | 40.7 inches | 37.8 inches |
| Legroom, 3rd row | 29.6 inches | N/A |
| Shoulder Room, 1st row | 59.1 inches | 57.8 inches |
| Shoulder Room, 2nd row | 58.1 inches | 56.4 inches |
| Shoulder Room, 3rd row | 53.0 inches | N/A |
| Cargo Volume | 12.6/38.5/75.5 cubic feet | 39.4/59.0 cubic feet |