2024 Maserati GranTurismo Breaks Cover
Maserati does two things well – soul-stirring engine sounds and opulent grand tourers.
Almost a lost art in America, the 2-door grand tourer is 51% luxury car, 51% sports car. Yes, that's 102%. We told you, these are opulent cars.
They offer sports car good looks and powerful engines but are tuned just a bit more for comfort than for corners. The Maserati GranTurismo has always been near the peak of the form. With competent drivers at the controls, a GranTurismo would lose a race to a Porsche 911. But the Maserati would make a contest of it, and the driver would continue to their country estate thankful for the bracing match, not having spilled a drop of their cappuccino.
Maserati's most well-known GT car was the GranTurismo, produced from 2007 until 2019. It was known for its sex appeal and Ferrari-derived V8.
The world has changed since 2019. But Maserati is betting that there's still a place in it for an exceptionally comfortable car that looks like it could keep up with supercars — and almost can. The GranTurismo returns for the 2024 model year.
Maserati showed off photos of its reborn grand tourer this week. Many details remain secret for now. We expect a full reveal this fall.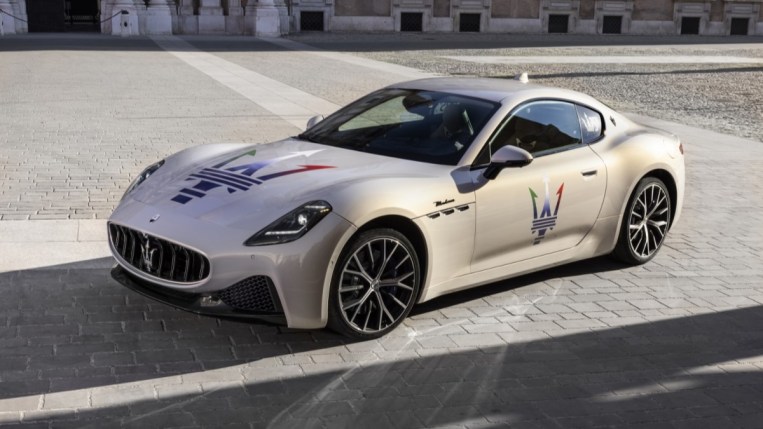 A More Organic Form
As for soul-stirring looks, the new car looks a lot like the old car. That's not a bad thing.
Designers have taken the traditional long-hood, short-deck proportions of the GranTurismo (you could mistake it for a Jaguar product from 30 feet away) and added more organic curves.
New character lines in the hood look like new muscle. Bulges over both wheels are more prominent than before, and a deep divot runs low along the doorline. The three portholes behind the front fender – a Maserati signature – are lined in chrome.
The car in the photos wears a special 75th-anniversary livery. That seems odd since Maserati was founded 108 years ago. The company says it's a salute to the 1947 birth of the Maserati A6, which it considers the birth of the GT car.
Maserati hasn't revealed the interior yet.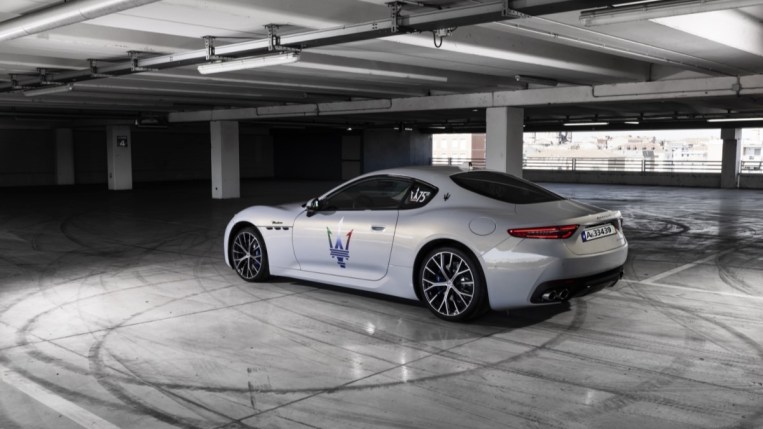 A V6, Electric Power, and a Concession to Progress
The last time the GranTurismo appeared in U.S. dealerships, Maserati's trademark was a carefully tuned V8 burble.
Astonishingly, the 2024 Gran Turismo will be available with either a V6 engine or an all-electric drivetrain.
The V6 is no slouch. It's taken from the Maserati MC20 supercar. Maserati hasn't revealed power figures yet. But in the MC20, it cranks out up to 621 horsepower and 538 pound-feet of torque.
It will, however, be the baby of the lineup. The headline-grabber will be the all-electric model. Called the GranTurismo Folgore (Italian for Lightning, Ford will be chagrined to learn), it puts out nearly 1,200 horsepower through three electric motors – one on the front axle and one powering each rear wheel.
Maserati claims a 0-60 mph time of 2.6 seconds and a top speed of over 200 mph.
It won't get there in silence. Step on the accelerator, and the Folgore produces a surging sound that suggests engine noise but doesn't quite replicate it, with a science-fiction resonance and a burble at idle. We hope to learn more about how it's produced at the full reveal. But it may help replicate the sense of connection to the car that has always come from Maserati's careful sound engineering.
The company plans all-electric versions of its Quattroporte 4-door and Levante SUV as well.