A Head-Turning, Heart-Pounding Day With the 2023 Nissan Z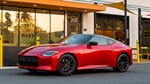 When thrown the keys to an alluring little 2-door sports car, the next move is only natural: Jump in and drive. That scenario, plus a free day, proved to be an experience I couldn't refuse in the all-new Nissan Z.
I set out to discover if the latest iteration of this sleek coupe could still turn heads and provide outsize fun.
Spoiler alert: Yes.
Even before pressing the prominent start button, slipping into the 2023 Nissan Z is a special sensation. You sit low with a racy, hunkered-down feel. Everything is within reach and the controls for functions, from climate settings to window switches, are intuitive and readily at hand.
In this respect, sinking into this all-new version of Nissan's long-adored sports car is similar to the last one. But a modern crispness makes this all-new model feel appropriately innovative where it needs to be for today's driver.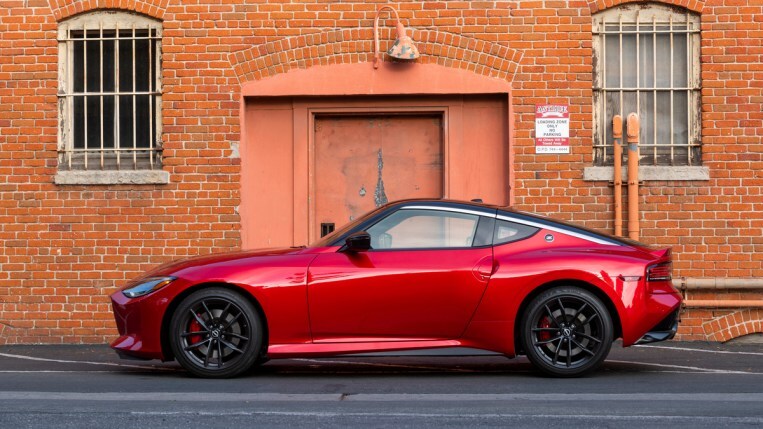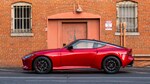 See more photos of the 2023 Nissan Z
An easy-to-use touchscreen sits prominently canted toward the driver to control phone, audio, navigation features, and the like. In this Performance test model — the higher of the two available Z trims — the screen is an ample 9 inches.
The driver's seat is multi-way adjustable, as is the steering wheel. It's easy to quickly settle in and feel at home in the new Z. This car might just get your pulse pounding before you even start the engine.
When the Z's own heart does roar to life, that's when the sensations it provides rise to another level. I was eager to experience the Z's new 400-horsepower twin-turbo 3.0-liter V6 on every road I could find, from canyon to city. The icing on this particular automotive cake was the Z's 6-speed manual transmission, which provides ultimate control and engagement. Also available is a new 9-speed automatic.
Sleek in the City

In the city, the Z proved to be a head-turner. Rolling through the hip yet historic town of Orange in Southern California, I got plenty of gawks from passersby, young and old. This wasn't exactly a surprise.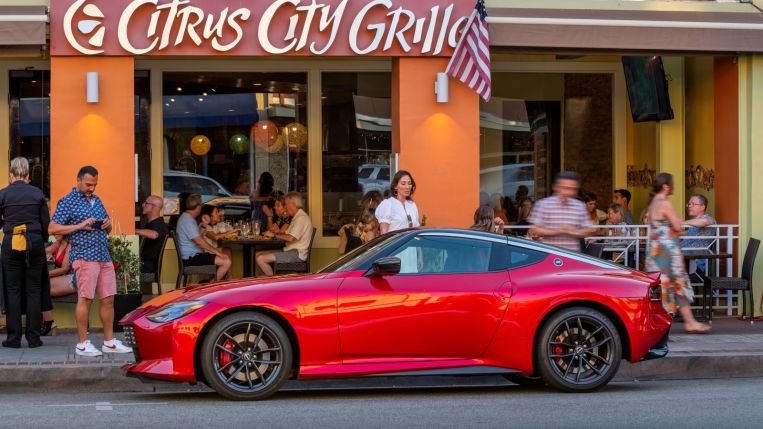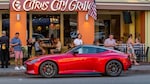 Just look at the Z's evocative design, a masterful blend of Z cars from decades past with the one in the here and now. The 2023 Nissan Z is an automotive example of the good that can come when the tried-and-true combines with the best of the modern world. It's current yet nostalgic, but with none of the cheese that can sometimes come with overtly retro designs.
As I drove through Orange's historic Circle with windows down and the engine purring, I heard something else: "Rev it!"
Two smiling teens were looking my way with eager anticipation. I obliged, then pointed this sports car icon toward canyon roads.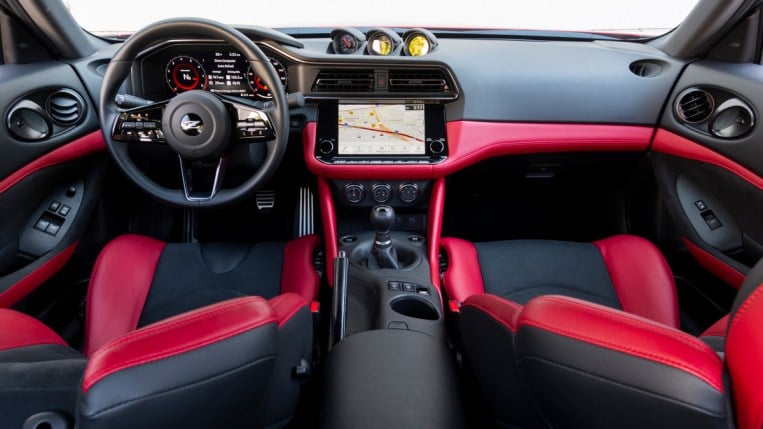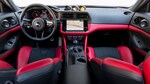 The Z remains a fine partner doing the daily stuff in the city, but when given the opportunity to let loose outside suburbia, it really shines. That was quickly apparent as I stormed Santiago Canyon Road, a favorite of local driving enthusiasts.
Canyon Carver
The Z ate up Santiago Canyon's ribbons of asphalt with the appetite of an exotic car. As chance would have it, I actually found myself behind a McLaren, whose owner had the same idea of a good time. I really had to wonder which of us was having more fun.
"…an automotive example of the good that can come when the tried-and-true combines with the best of the modern world."
From the vantage point of pure engagement, I had a pretty good guess — and much of that had to do with the manual transmission. There's nothing quite like piloting a small, rear-wheel-drive coupe packing this amount of horsepower and a manual transmission. The sense of control and power is awesome, and this Z does one better in its ability to make a good transmission feel great thanks to its rev-matching on the Performance model.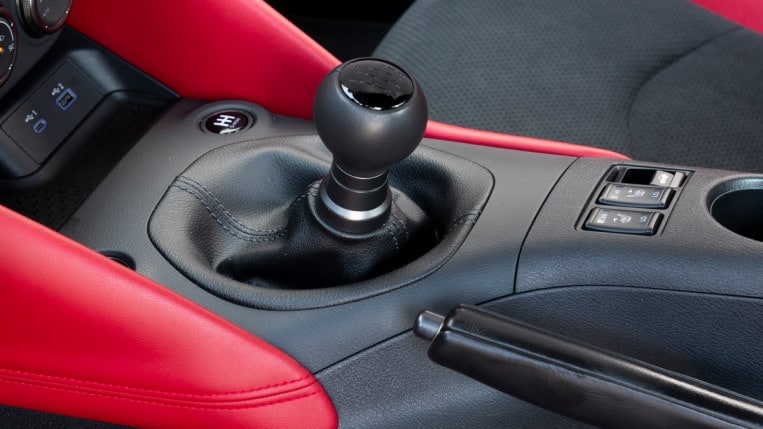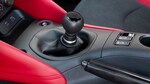 When engaged, this feature automatically blips the throttle on downshifts. This makes for smoother shifts, aural excitement, and the sensation that you're a better driver than you are. It essentially replicates the complex task known to enthusiasts as heel-and-toe shifting. We don't need to dive into the technicalities. Just know that this Nissan's rev-matching cheat code makes a recipe for exceptionally fun, sporty driving.
Rich Heritage
That recipe is hardly new but definitely improved in today's Z. This iconic Nissan sports car actually dates to 1969. Over the decades and many generations — which began under Nissan's former Datsun brand in models like the 260Z and 280Z, up through the rad Nissan 300ZX of the 1990s and the recently departed 370Z — this sports car has appealed to drivers seeking both enjoyment and value.
Each generation became a bit bigger, more powerful, and endowed with nicer features. But its mission has never waivered: To be a fun, potent, rear-wheel-drive 2-door sports car whose price remained in reach.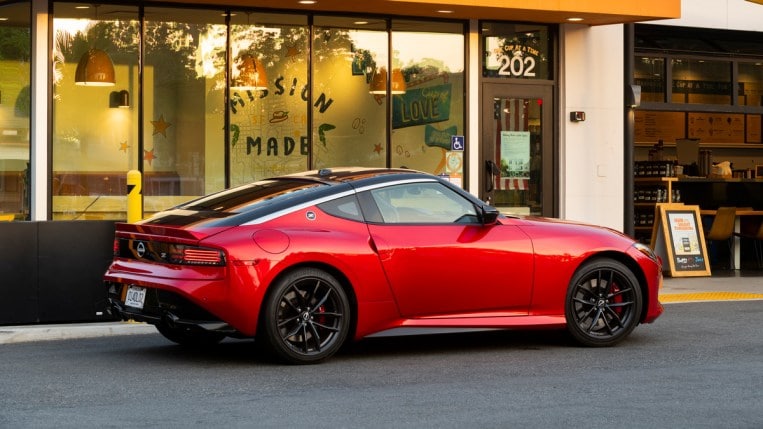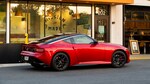 See more photos of the 2023 Nissan Z
This all-new Z, now formally known by its one-letter name, brings all the best that came before it, an appropriate amount of the latest safety and tech features, and a heavy dose of head-turning design and surprising value. And power. A lot of power.
I can't think of another sports car that begins at $40,000, packs 400 horsepower, and brings the kind of visual punch and driver's seat fun that can be had in a day with the new Nissan Z.
More 2023 Nissan Z
Starting Price: $39,990
Engine: Twin-Turbocharged 3.0-Liter V6
Horsepower 400 hp @ 6,400 rpm
Torque: 350 lb-ft @ 1,600-5,200 rpm
0-60 mph: In the low-mid 4-second range according to most tests
EPA city/highway fuel economy: 19 mpg/28 mpg (9-speed automatic), 18 mpg/24 mpg (6-speed manual)
On Sale Now: See listings near you