All-New 2023 Honda CR-V Starts at $31,110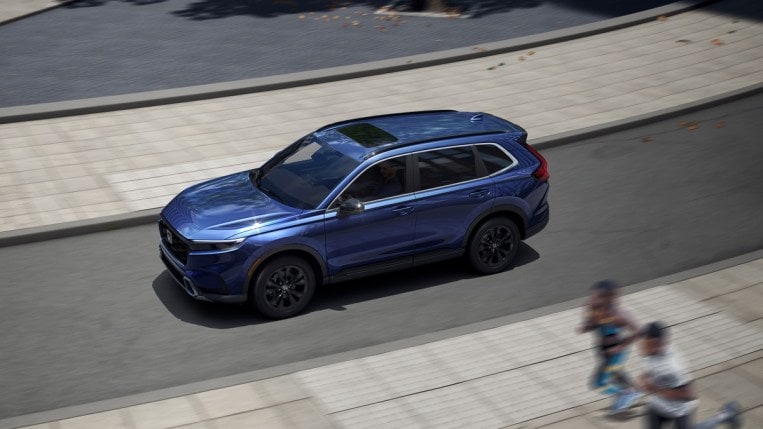 The 2023 Honda CR-V starts at $31,110, plus a $1,245 destination fee
Most months, the CR-V is both Honda's best-selling model and one of America's two best-selling compact SUVs. It offers a near-perfect balance — plenty of cargo and passenger space in a vehicle small enough to maneuver easily in traffic and crowded parking lots. It's economical, safe, and has the armor-clad reliability and resale value that made Honda so successful. Only the Toyota RAV4 wins more hearts.
All-New 2023 Honda CR-V
Honda has an all-new CR-V headed to dealer lots soon. Today, Honda revealed prices for the all-new CR-V.
The 2023 CR-V wears handsome updated looks — we think it's the best a Honda SUV has ever looked — and borrows the bones of the excellent new Civic.
No one in the press has driven the new CR-V yet (though our Micah Muzio has spent some time exploring it but not driving it). But we expect it to replicate the balanced handling of the Civic.
EX and EX-L models get an updated 1.5-liter turbocharged 4-cylinder engine making 190 horsepower, mated to a continuously variable transmission (CVT). Sport and Sport Touring models get a more powerful hybrid system using a 2.0-liter 4-cylinder and an electric motor, which combine for 204 horsepower. Front-wheel drive (FWD) is standard on all but the top Sport Touring trim, which gets all-wheel drive (AWD) standard. AWD is optional on every trim level.
2023 Honda CR-V Pricing:
Trim
Drivetrain
MSRP
MSRP Plus $1,245 Destination Charge
EPA Mileage Rating
City/Hwy/Combined
EX (FWD)
1.5T/CVT
$31,110
$32,355
28 / 34 / 30
EX (AWD)
1.5T/CVT
$32,610
$33,855
27 / 32 / 29
Sport (FWD)
Hybrid
$32,450
$33,695
43 / 36 / 40
Sport (AWD)
Hybrid
$33,950
$35,195
40 / 34 / 37
EX-L (FWD)
1.5T/CVT
$33,760
$35,005
28 / 34 / 30
EX-L (AWD)
1.5T/CVT
$35,260
$36,505
27 / 32 / 29
Sport Touring (AWD)
Hybrid
$38,600
$39,845
40 / 34 / 37