All-New 2023 Honda HR-V Starts at $23,650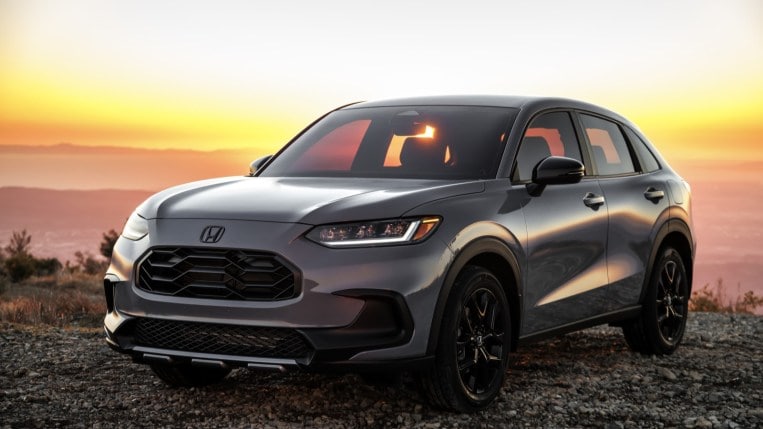 Honda's smallest SUV has seen a complete redesign for the 2023 model year. The next HR-V is larger and more refined than the one it replaces but more expensive and less fuel-efficient.
The 2023 Honda HR-V will start at $23,650. Prices rise to a little over $30,000 fully equipped. Honda also charges a $1,245 destination fee on all HR-Vs.
Is That Honda Mad At Us?
Honda has shown off the HR-V's exterior several times over the last few months. With a longer hood and lower beltline, it looks much larger than the old HR-V. That's partly illusion – it's about 9 inches longer and under 3 inches wider. The look is rather plain from the rear, but the front fascia is more distinctive. A pair of character lines in the hood pinch in to meet the grille, passing over the headlights as they go.
There's no way around it – they look like eyebrows. The automotive press disagrees on whether the car looks angry or tired. But there's no disputing it — the new HR-V has a mood.
Contemporary Cabin, Optional Warp Drive Seats
Inside, the cabin blends the contemporary cockpit of the new Civic with an early 1980s video arcade aesthetic. Full-width air vents draw the eye to the dashboard, where a 7-inch screen stands up vertically. It looks like it could retract into the dash, but it doesn't. A larger, 9-inch screen is optional.
Real dials and buttons for the climate control sit below the screen, allowing drivers to adjust settings with a physical touch vs. being reliant on a touchscreen. Apple CarPlay and Android Auto are standard, with it being wireless on EX-L trims.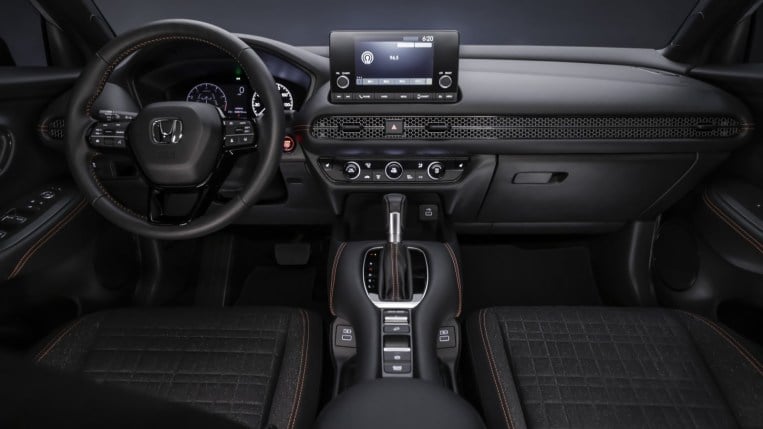 That all looks current enough. High-end EX-L models get perforated leatherette seating surfaces that match the look. Base LX models get flat black cloth.
But mid-level Sport models get a fun retro touch. They're upholstered in a black cloth flecked with white spots in a random pattern and stitched in a varied-size grid design. It looks like nothing so much as the space graphics in an early 80s arcade game. We're jumping to light speed.
Increased Power, Decreased Fuel Economy
Ok, we're not jumping to light speed. With a 2.0-liter 4-cylinder engine making 158 horsepower, we're sticking to highway velocity. But the new HR-V does get 17 more horses than the old one.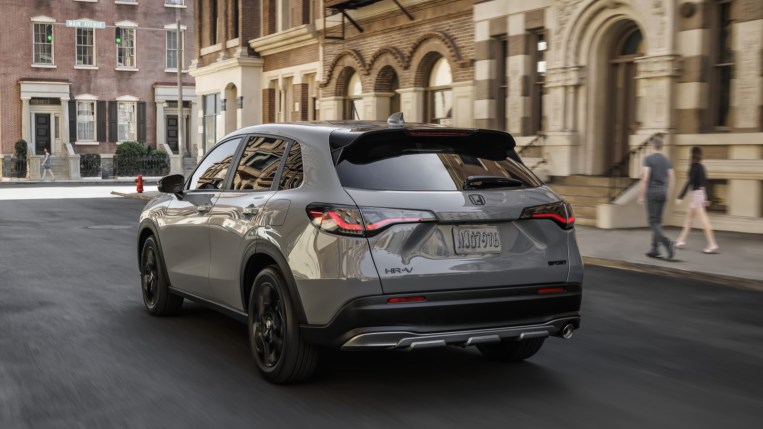 That's the only engine option. There's only one transmission to go with it – a continuously-variable (CVT) model. Buyers can choose front- or all-wheel-drive (FWD or AWD). FWD editions get 28 mpg in combined driving. AWD models get 27. Both of those numbers are a bit lower than the outgoing model – a curious decision with gas prices rapidly approaching $5 per gallon and Americans seeking out more efficient rides to work.
Honda sells a hybrid edition overseas. It would probably sell easily in America, so we expect to see it here in a year or two.
The soon-to-be-outgoing HR-V was built on the chassis of the late Honda Fit. This new version uses the Civic's bones. That means a more refined multi-link rear suspension that should make the driving experience smoother.
The affordable subcompact SUV class is competitive, but Honda might be able to take the championship belt from the Kia Seltos with this entry. Toyota's funky CH-R isn't to everyone's tastes, and Chevy's underwhelming Trailblazer offers a somewhat jittery ride. That leaves an opening for a practical, refined model with simple looks to move up. We're just unsure of Honda's decision to take a slight step back in efficiency at a time when buyers are looking to save at the pump.