All-New Ford Mustang Bows: Here's What It's Packing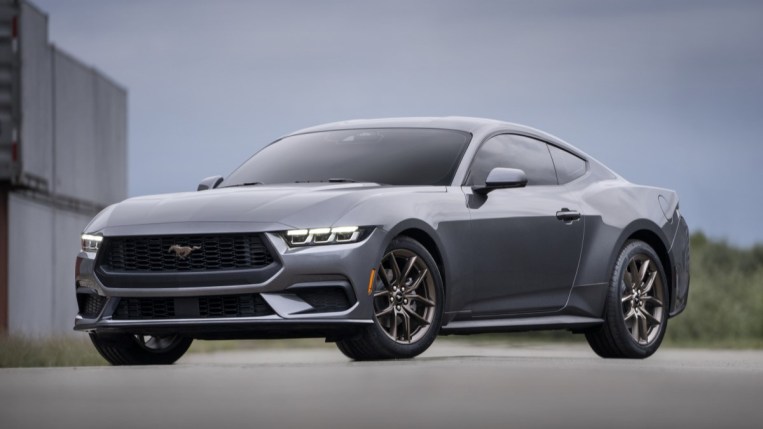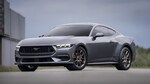 Ford hasn't revealed pricing for the 2024 Mustang. We expect it to start around $30,000 when it goes on sale next summer.
These are nervous days for lovers of the classic muscle car.
There is no purer expression of the American love affair with combustion than the muscle car. But the writing is on the wall for that love.
When the muscle car's eulogy is written, most of the ink will be spilled over the three models that survived into the 21st century – the Ford Mustang, Dodge Challenger, and Chevy Camaro.
Dodge has placed its bet on how the future of the rough, rear-wheel-drive coupe will go. It has announced the end of the Challenger line and recently revealed what it calls the first electric muscle car. Opinion was as viciously split as you'd expect it to be, with some fans calling Dodge the savior of the type and others betrayed by the electron.
Chevy appears to be staying its hand, letting the Camaro get long in the tooth with no news on what's next.
All eyes at the table are on Ford. Here comes its bet. It's an all-new Mustang, with no electrification and a big snarling V8 still offered under the hood.
Meet the seventh-generation pony car.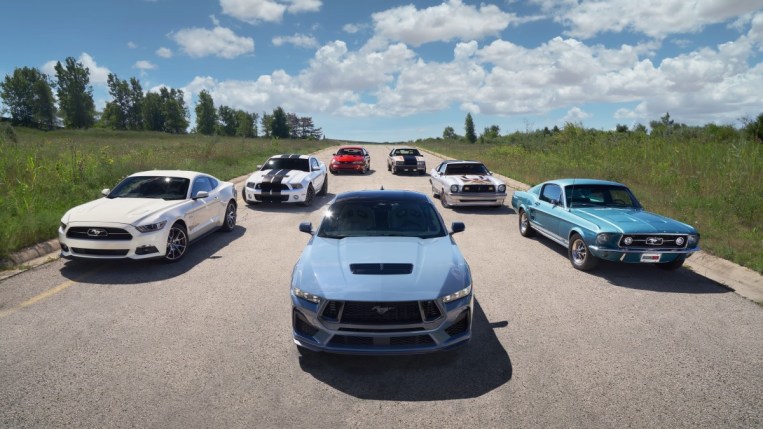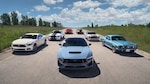 Gasoline Only
The biggest news is no news.
When it goes on sale in the summer of 2023, the all-new Mustang will offer a choice of two engines.
One is a 2.3-liter turbocharged 4-cylinder EcoBoost powerplant. Ford hasn't revealed power figures, but the 2.3-liter EcoBoost in the 2022 Mustang puts out 310 horsepower. So the engine used in this all-new model is probably about as powerful.
The other, the GT model, is the classic V8 you have in mind when you think of a muscle car. Ford says this latest version of its venerable 5.0-liter Coyote engine is the "most powerful" yet. Actual numbers are, again, under wraps. But the last Coyote made 450 horsepower in its tamest version.
Power goes to the rear wheels – another nod to the purists – through either a 10-speed automatic or a rev-matching 6-speed manual transmission.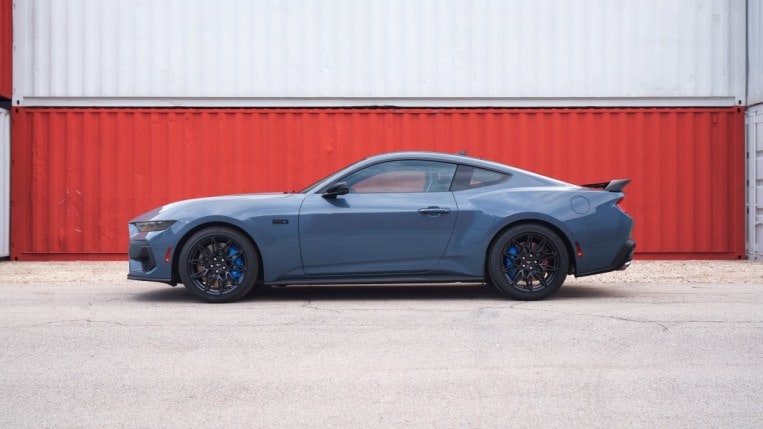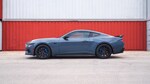 Adjustable Everything, Drift Brake System
Six drive modes adjust steering effort, engine response, and transmission and electronic stability control settings.
Ford hasn't revealed many details on the standard suspension setup. An optional Performance Pack, available with either engine, adds a Torsen limited-slip differential and the option of a MagneRide active suspension.
Then there's the drift brake. We'll let Ford explain:
"A segment-first electronic drift brake takes new technology to the racetrack, unlocking the rear-wheel-drive drifting capability of Mustang with the visual appeal and functionality of a traditional, mechanical handbrake," the company says. It's part of the Performance Package and "engineered for novice drivers to learn and improve their drift skills while also providing expert drivers with a competition-ready system."
Another high-tech twist – the Mustang's key fob includes a button to rev the engine from a distance.
Evolutionary Design
Park the 2024 Mustang next to the current model, and you'd understand that they're different cars but struggle to explain precisely how. That's exactly what Mustang lovers want in a new look, so we tip our hat to Ford.
The 2024 Mustang has a pleasant bulging, muscular look in profile. EcoBoost and GT models each get slightly different fascias. The GT gets larger grille openings to feed air to that big V8.
But both, Ford says, use an upper grille "influenced by the original 1960s design."
The rear fenders bulge slightly – a great look in a rear-wheel-drive car. Ford says the roofline of coupe models is optimized for a driver in a helmet. There is, of course, a convertible model. But Ford hasn't provided a single photo with the roof in place on that one.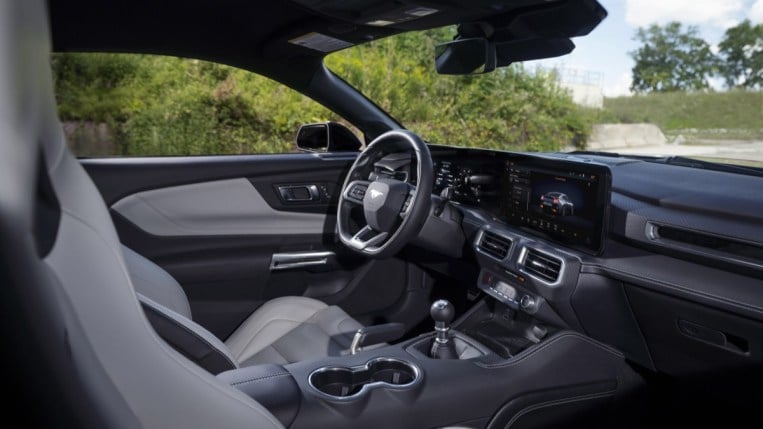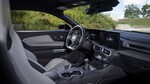 Jet Fighter-Inspired Cockpit
Inside, much more has changed. If the seventh-gen Mustang's exterior leans heavy into its history, its cabin reaches toward modern technology.
The driver's instrument screen and central touchscreen are mounted together in a single curved bezel. Ford says the look is "fighter jet-inspired," though we haven't been in any fighter jets with this kind of screen real estate recently.
Emphasizing the digital nature of today's cars, Ford reveals that the graphics that drive the screens are rendered with the same Unreal Engine 3D tool behind many of today's most popular video games. When personalizing drive mode settings, Ford says, "Settings can be adjusted by simply swiping the graphic to rotate the car virtually in a true gamified style."
Drivers can customize displays to an unusual degree. Should all the options prove too much, Ford has included a "calm" setting that displays "only minimal details."
In one choice we'd question, Ford interior design manager Ricardo Garcia says, "Removing some of these physical buttons, such as radio and climate control, and integrating them into a digital display was popular in research with Millennials, Gen-Z, and traditional Mustang drivers alike."
That decision is never popular with our reviewers or in the comments we hear from readers about their new cars.
They got the other control interfaces right, though. A flat-bottom steering wheel looks sporty and makes entry and exit easier. And the shift knob is a ball as it damn well should be (sorry not sorry, Challenger lovers).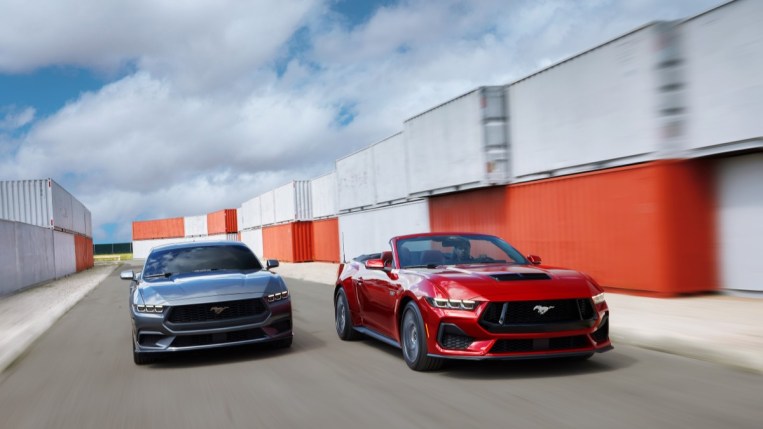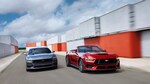 Nothing Retro About the Safety Gear
Every 2024 Mustang comes standard with Ford's Co-Pilot 360 safety suite. It includes adaptive cruise control with stop-and-go capability, lane-centering assist, and speed sign recognition. A first, the Performance Package comes with a system designed to adjust the suspension to account for potholes.
A Brave Bet, or a Critical Moment of Hesitation?
Ford sold the last two Mustang generations for eight and nine years, respectively. That kind of longevity would make this, the seventh generation, last until at least the 2030 model year.
Building a gas-powered muscle car in 2024 is not odd. Building one in another eight years could be very out of the ordinary.
Ford has been aggressive in its electrification plans – even reportedly telling dealers to commit to an electric future or lose the right to sell EVs. It put the Mustang name on its first mainstream electric car, the Mustang Mach-E (though no one considers it part of this same lineage).
That makes Ford seem like an odd savior for the classic, gas-powered muscle car. But that's the bet Ford has made.
It may pay off, with the blue oval seen as the last one standing up for an American archetype. Or it may leave Ford looking timid while Dodge – the most unlikely of pathbreakers – leads the muscle car into the future.
The Mustang has been America's best-selling sports car for seven consecutive years. We're confident the seventh-generation Mustang will give Ford that honor for an eighth and probably a ninth. Beyond that… the gambling is getting interesting.