Average New Vehicle Price Sets Record, But Don't Panic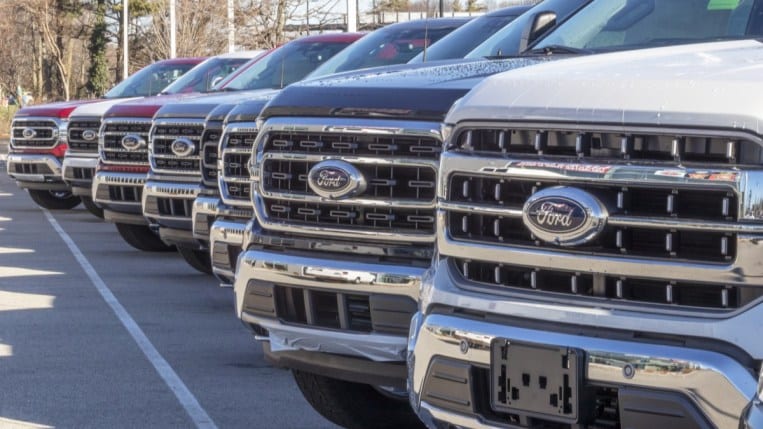 The average new car in America sold for $48,182 in July, beating the record set last month, according to Kelley Blue Book data. July prices rose 0.3% ($139) from June and 11.9% ($5,126) from July 2021.
However, the struggle for many buyers is not high prices — it's a lack of availability. Many types of new cars are more affordable than the record number would suggest, but they're hard to find.
Most Buyers Paying Over MSRP
The average non-luxury buyer paid $875 over sticker price last month. Luxury car shoppers paid an average of $730 over sticker. Both numbers are slightly improved from June, though studies show that car shoppers' frustration is growing, and they're blaming both dealerships and automakers for the situation.
Incentives Still Rare
Buyers got little help from dealers and automakers in July. Incentives increased slightly in July versus June but remain low, at only 2.4% of the average transaction price. A year ago, incentives averaged 5.9%.
Full-size and luxury cars had the highest incentives in July, while high-performance cars, full-size luxury SUVs, and electric vehicles had the lowest.
Which Brand You Shop Makes a Big Difference
Shoppers might find a deal by considering brands that might not have been on their radar in earlier years.
Honda, Kia, Land Rover, and Hyundai dealers consistently charged 5% to 8% over sticker in July.
Alfa Romeo, Buick, Fiat, Lincoln, Ram, and Volvo dealers all charged a premium closer to 1%.
That creates some excellent buying opportunities. In J.D. Power's most recent quality survey, Buick built the highest-quality vehicles for sale in America, while Lincoln scored above average.
Some Cars Easier to Afford, Hard to Find
Average price data can mask the fact that not every shopper is in the same position. Luxury cars made up 17.8% of the cars Americans bought in July — down from 18.2% in June, but still historically high. That pushes prices up.
"New-vehicle inventory levels are better than a year ago, but remain historically low, and that's keeping new-vehicle prices elevated," said Rebecca Rydzewski, research manager of economic and industry insights for Cox Automotive. "Still, even though average prices are at a record, there are affordable vehicles out there. Compact cars and SUVs and subcompact models typically transact for 30% to 40% below the industry average."
Cox Automotive is the parent company of Kelley Blue Book.
Shoppers looking for high-performance cars paid an average of nearly $5,000 over MSRP in June. Full-size luxury SUV buyers had it even worse, paying nearly $3,000 over sticker.
On the other hand, shoppers looking for subcompact crossovers spent a much more manageable $965 more than the list price. Their problem was finding one to buy in the first place. Small, fuel-efficient cars are in short supply nationwide.
Automakers measure their stock of cars to sell in a metric they call "days of inventory" — how long it would take to sell out of cars at today's sales rate if they couldn't acquire more. An old industry rule of thumb told dealers to always keep more than 45 days on hand.
Shoppers have paid new attention to sedans recently as gas prices have risen. That has left dealers with less than two weeks' supply of subcompact, compact, and even midsize cars.
Electric Vehicle Prices Dropped
The average price paid for a new electric vehicle (EV) dropped in July by 2.3% compared to June but increased by 18.8% versus a year ago. The average price for a new electric vehicle — over $66,000 — remains well above the industry average and more aligned with luxury prices versus mainstream prices.
Prices for electric vehicles may be declining because of increased competition, as more automakers have introduced EVs in 2022. But they remain exceptionally hard to find, with many selling by pre-order before they are even built.