Cadillac Unveils Ultra-Luxury Celestiq EV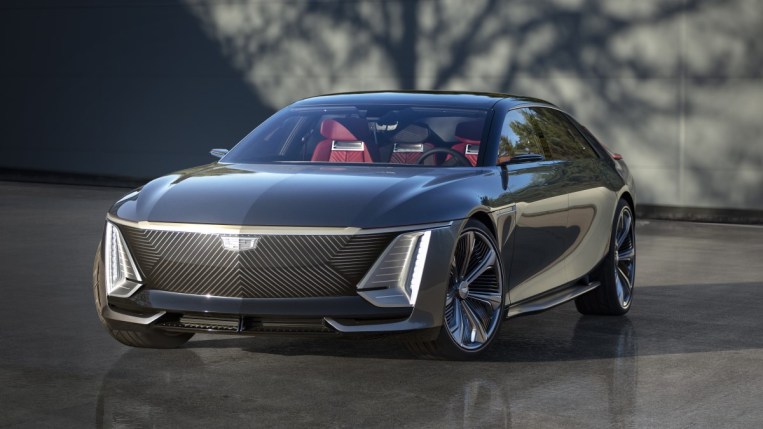 Cadillac has a heritage deeper than almost any other automotive brand. The luxury division of General Motors is 120 years old. Among American car badges, only Buick is older. And at its peak, Cadillac enjoyed a reputation few car companies have ever matched.
It once built some of the world's most luxurious cars – an American Bentley.
In recent decades, Cadillac has styled itself an American BMW or Audi.
Its best-selling product remains the untouchable Escalade large SUV. But the company has advertised luxury sport sedans like the Germans do and pushed its V series of high-performance models as its showpieces.
That's leaving a lot of history on the table.
But not for long.
GM plans to remake Cadillac again. The brand has promised to go all-electric – an opportunity to make American buyers see it in a new light.
With that in mind, Cadillac today unveiled a new banner carrier meant to show off everything its designers can do. It's such a callback to history that the first press release explaining the car mentions "the artisanship and customization that defined early Cadillac sedans such as the bespoke V-16 powered coaches of the pre-war era" as inspiration.
Meet the Cadillac Celestiq – a modern electric car inspired by your great grandparents' dream cars.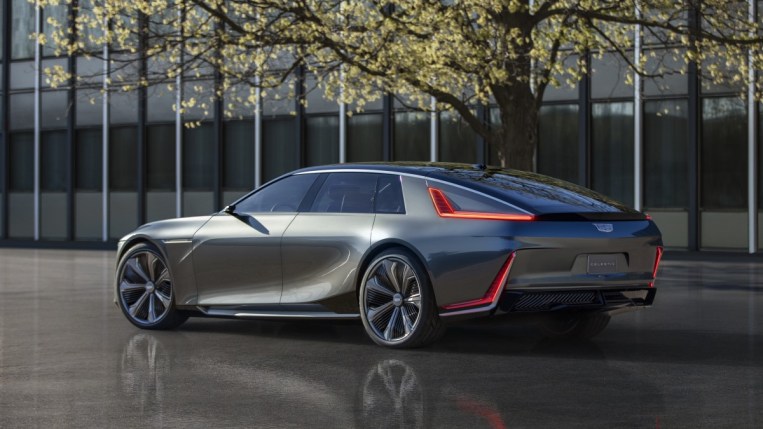 A "Show Car" For Now
The full-size ultra-luxury sedan you see in these photos isn't meant for sale… yet.
Cadillac officially calls it a "show car" to illustrate that it's not production-ready. But insiders have said the Celestiq is headed for production, with about 400 a year to be hand-built at GM's Warren Technical Center research facility.
When? GM won't say, but may have dropped a hint. Photos sent to the press this week were labeled "MY25," industry shorthand for model year 2025. That could put the Celestiq in showrooms in mid-2024, though that's pure speculation on our part.
The Wall Street Journal has reported that the Celestiq could cost north of $300,000. A Cadillac spokesperson tells us, "We have no comment on Celestiq pricing. We will share more later this year when we announce further details for the production version."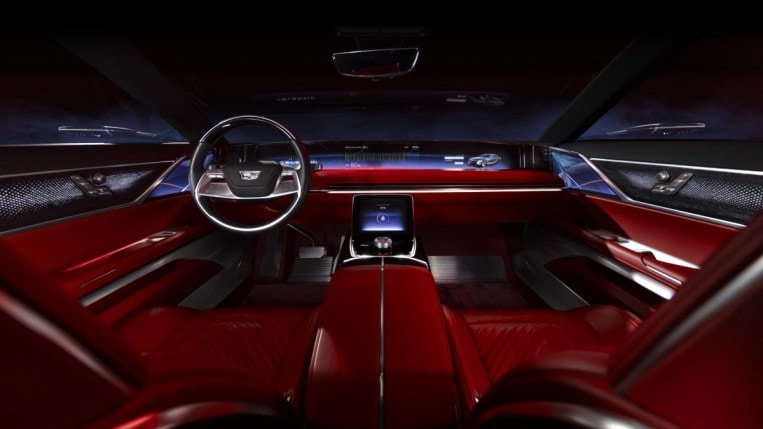 The Jazz Age, The Jet Age, and the Electric Age
The Celestiq bears some resemblance to today's Cadillacs. The familiar sharp-edged sheet metal creases and vertical lighting elements are here. But it looks as though designers filtered them through an F. Scott Fitzgerald story to create a 1920s-meets-2020s vehicle.
Designers took inspiration from several periods of Cadillac's history, the company says.
Touchstones include "classic architecture such as the mid-century masterpieces of architect Eero Saarinen" and the 1957 Cadillac Eldorado Brougham.
Saarinen, not coincidentally, designed the Warren Center building where Celestiqs will be assembled – a National Historic Landmark for its contribution to American architecture. He was also the architect behind Saint Louis' Gateway Arch. They're aiming for iconic here.
Other inspirations include those pre-war sedans – their art deco hood ornament is etched in crystal strakes behind the front fenders.
They come together to create a beautiful car from the front but an oddly-proportioned one from the rear. The front fascia is imposing, with its lighted false grille borrowing the Cheshire Cat grin of the Lyriq SUV. But the rear is bulbous. It reminds us of the Porsche Panamera, but somehow more angular. The Panamera looked odd until everyone got used to it, so maybe the Celestiq's rear will seem right eventually.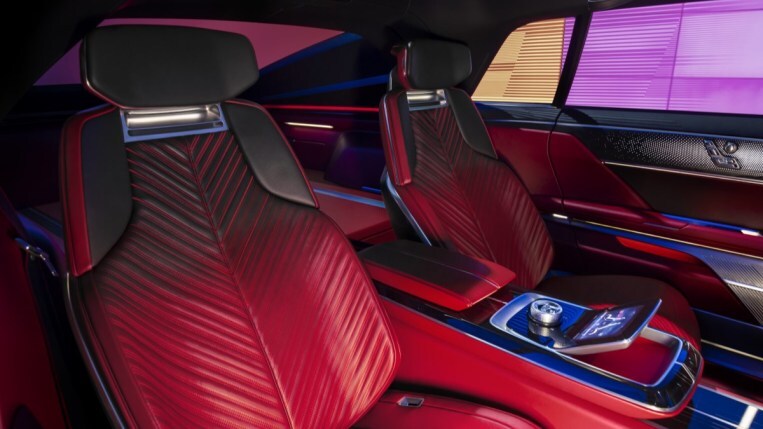 Inside, Red Leather and Glass
Inside, the look is sumptuous. The seats are upholstered in chevrons of red leather, deepening to black at the headrests. Piano black and brushed nickel trim look right out of an upscale bar where you'd meet Humphrey Bogart for a gimlet.
But it's 2022. Touchscreens are everywhere. The dashboard looks like one immense LED screen – 55 inches diagonally – but is segmented with privacy filters so that the driver sees the usual instruments while the front passenger can watch video the driver can't see.
"The Smart Glass Roof features Suspended Particle Device (SPD) technology that allows for four zones of variable lighting," Cadillac says, "allowing passengers to fine-tune their cabin experience for completely personalized comfort and visibility."
Cadillac Tight-Lipped on Specifications
And now, we'd like to tell you about the drivetrain.
We'd like to. But we can't. Cadillac has said nothing beyond mentioning that the Celestiq rides on GM's Ultium architecture. Ultium is a skateboard-like combination of batteries, electric motors, and suspension that all sit beneath the passenger cabin of an electric car.
Cadillac has used it before in the Lyriq. There, it's available in a 340-horsepower rear-wheel-drive configuration or a 500-horsepower all-wheel-drive (AWD) setup.
But those numbers seem unlikely on a car with a potentially Rolls-Royce price. If the rumors about Cadillac's target audience for the Celestiq are true, we think it's more likely that it borrows the 1,000-hp AWD Ultium kit from the GMC Hummer EV.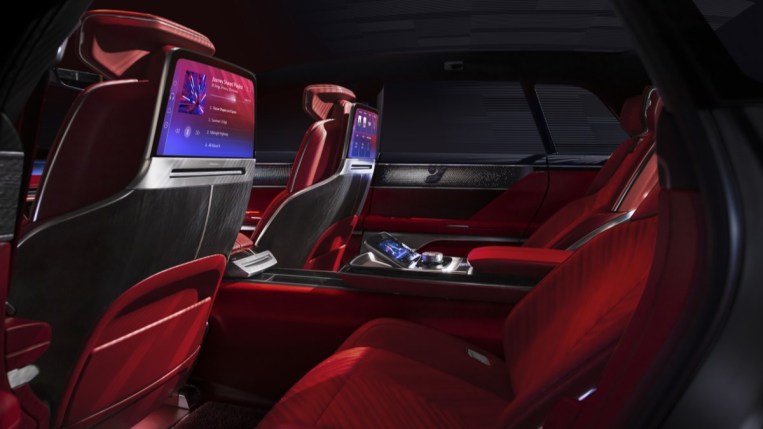 A Decadent Roll of Some Hand-Carved Ebony Dice
The term "flagship" gets thrown around easily in the automotive world. It always refers to the top of an automaker's lineup. But that can mean different things to different markets.
For many years, Cadillac's flagships have scratched at the low end of six figures. Competing in the rarified realm of Bentley and Rolls-Royce is something Cadillac hasn't attempted in generations.
But here is that attempt.
Cadillac describes the Celestiq as a car that "considers the entirety of travel as a curated experience — one intended to evoke an emotional response."
It looks like nothing else on the road, which could well evoke the response they're going for. But will ultra-luxury buyers pay Maybach money for a car from the people who brought you the $37,000 XT4? We'll have to wait to see if the emotional response is that strong.
But we hope so. Cars get more interesting when their designers have the freedom to play with unusual inspirations.
Visible bolts on the Celestiq bear the inscription "The Standard of the World," a Cadillac slogan dating to the early 1900s. That shows the history and thought that went into this. Let's wish Cadillac luck with selling at least 400 of these, so they keep taking chances.