Chevy Reportedly Halts Corvette Z06 Orders, Eases Flipping Rules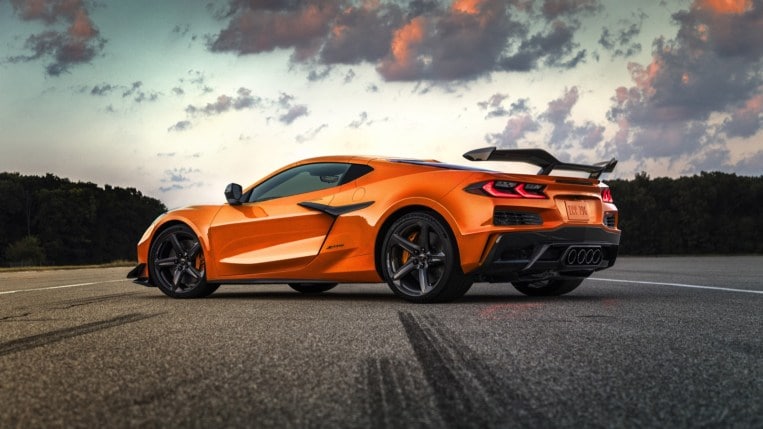 The 2023 Chevrolet Corvette Z06 starts at $105,000, plus a $1,395 delivery fee.
The 2023 Chevrolet Corvette Z06 is one of the quickest cars General Motors has ever built and one of the biggest headaches it's ever given itself. Multiple reports this morning say Chevy has paused taking orders for its new halo car when production had just begun.
Chevrolet started taking orders for the Z06 in July. Now, GM has closed the order books.
Two sources well connected to GM conflict on whether the move is permanent. Corvette Blogger says the move will last "through the end of this calendar year," while GM Authority reports that it's "currently unclear if it will once again start taking new sold orders" for the 2023 year. We've asked Chevrolet for clarification and will update this report if they respond.
About the Z06
The Corvette has been GM's cape-wearing hero sports car for decades. The Z06 is the fastest Corvette.
After decades of rumors, Chevrolet turned to a supercar-style mid-engine design with the latest generation Corvette Stingray for the 2020 model year. That gave American car enthusiasts a stunning opportunity – the chance to own a Ferrari-like mid-engine car with an entry price, for 2023, of just $65,895 (plus $1,395 delivery).
The Z06 is a step up from the standard Stingray. It adds race-bred equipment like a 5.5-liter flat-plane crank V8 that doesn't reach redline until 8,600 rpm, available carbon-ceramic brakes, and removable panels that let drivers increase downforce for track days.
The Z06 nominally starts at $105,000 (plus that same delivery fee). But its scarcity means buyers are paying much higher prices for it.
Chevy Acts Against Corvette Flippers
Rarity often drives car flippers – people who buy an in-demand car and immediately resell it at a significant premium. With new car prices at record highs, some dealerships have reportedly worked directly with brokers to coordinate reselling Z06 models for extraordinary prices.
Chevy has, understandably, grown worried about what that practice could do to its reputation. Last month, the automaker announced a plan to crack down on the practice. GM required buyers to keep their Z06 for at least a year. If they sold it before the year was out, the car would lose its warranty, and the seller would lose the right to buy another GM car.
Limited Numbers. More Limited Than Planned
The Z06 was always meant to be rare. But GM Authority reports that Chevrolet is facing production problems it didn't expect. The company may be able to build "just 10 percent of accepted orders due to what the automaker refers to as a plant restriction."
Some buyers who've ordered a 2023 Z06 may wait until the 2024 model year to receive their car. Meanwhile, Chevy has stopped accepting orders.
Corvette Blogger reports that Scott Bell, GM global vice president for Chevrolet, told dealers the company still plans to "sell more of this generation Corvette than any other generation in our history, and that includes a high percentage of Z06s."
But the company needs to solve undisclosed production problems before that goal becomes realistic.
Meanwhile, Autoblog reports, "the no-flipping rule has been shortened from 12 months to six."