Choosing a 2022 Kia K5: Which Engine?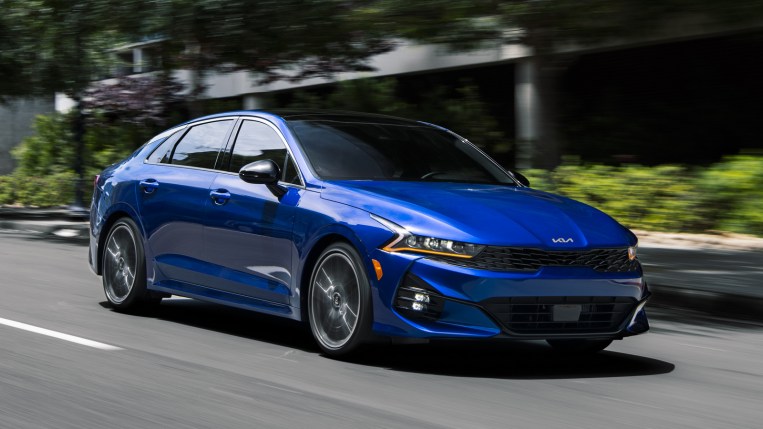 Starting Price:
$23,790 |
Price Yours
KBB Rating: 4.5 out of 5
The Kia K5 is a sporty and stylish midsize sedan. It's also practical and reasonably priced, making it a good value in its competitive class.
Two engines are available under the hood of the K5, and you can't go wrong with either. Which one is right for you depends on your appetite for performance.
The Popular Engine
1.6-liter turbocharged 4-cylinder
180 horsepower @ 5,500 rpm
195 lb-ft of torque @ 1,500-4,400 rpm
EPA city/highway fuel economy: 29/38/32 mpg (LX only), 27/37/31 mpg (FWD), 25/33/28 mpg (AWD)
Price of entry: $23,790
The base engine in the K5 is the sensible choice for most drivers. It achieves impressive fuel economy with front-wheel drive (FWD). Even if you opt for all-wheel drive (AWD), the fuel consumption is still pretty thrifty.
The base engine delivers adequate performance, and the peak torque arrives early in the rev range thanks to the turbocharger. That means it's responsive when you hit the gas pedal with brisk acceleration from a stand-still.
It's worth noting that this is the only engine available with AWD.
The Faster Engine
2.5-liter turbocharged 4-cylinder
290 horsepower @ 5,800 rpm
311 lb-ft of torque @ 1,650-4,000 rpm
EPA city/highway/combined fuel economy: 24/32/27 mpg
Price of entry: $31,190
The muscular Kia K5 GT boasts one of the most powerful engines in the midsize sedan segment. It comes with a significant upgrade in performance compared to the base engine that's noticeable from behind the wheel. If you like the idea of a practical family sedan that's also a blast to drive, this is the K5 model you'll want.
This engine isn't as fuel-efficient as the base engine, but it doesn't require premium gas, so the fuel costs are still pretty reasonable. At 15,000 miles per year and $4 per gallon, the added power will cost an extra $24 per month at the pump. We wish the K5 GT were available with AWD, but this sports sedan is FWD only.
On top of the engine upgrade, the K5 GT comes with a sport-tuned suspension and paddle shifters, contributing to a more engaging drive.
More 2022 Kia K5
Now that you have a better idea of which engine is right for you, build and price your own 2022 Kia K5 to see this week's Fair Purchase Price or see the Kia K5 models for sale near you.