Crash Tests Show Automating Braking Systems Fail at Night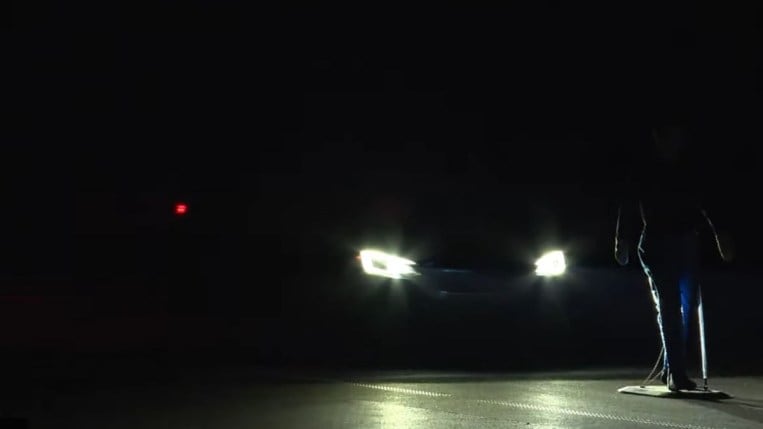 More pedestrians have been killed by cars every year since 2009, and 75% of those fatal accidents have occurred at night.
Our cars keep, supposedly, getting safer. Automakers pepper us with advertisements for new safety technologies daily, and seemingly every other ad includes a car stopping itself from hitting a child while its driver is momentarily distracted.
But safety advocates have been testing those systems with new rigor for much of the past year. The results tell a less confident story.
Most recently, a safety lab funded by a group of insurance companies tested automated emergency braking systems on 23 vehicles, including midsize sedans, SUVs, and pickup trucks. They performed reasonably well in the daytime. They were unreliable at night.
About the IIHS
The Insurance Institute for Highway Safety (IIHS) is not a government agency. It's a private safety lab funded by auto insurance companies. Insurers push carmakers to build safer cars for what should be obvious financial reasons. The IIHS is how they do it.
The institute conducts some of the industry's most rigorous safety testing.
Recently, it has turned its attention to the automated safety systems automakers advertise as reducing driver workload and making us all safer on the road. In February, it published a study examining real-world accidents that suggested automated braking systems don't work well at night.
It has also announced plans to rate the driver attention warnings that are supposed to make sure the driver is watching the road.
The IIHS is not alone. Recent AAA testing also raised concerns that automakers make overblown claims about driver attention warnings.
About the Tests
Now, the institute has moved from studies to lab tests. Researchers tested whether 23 vehicles from the 2022 model year braked themselves when confronted with adult-size mannequins placed crossing the street or walking parallel to the roadway.
Researchers tested each vehicle multiple times. Crossing tests were performed at 12 mph and 25 mph, and parallel tests occurred at 25 mph and 37 mph. All took place on dry pavement, with separate tests for high- and low-beam headlights.
A vehicle that warned the driver to stop earned a rating of Basic. Vehicles that warned the driver and reduced their speed enough to avoid a crash in one of the two tests earned a rating of Advanced. Those that avoided a crash in both tests earned a rating of Superior.
In the daylight, 19 of the 23 vehicles tested earned Advanced or Superior ratings.
In the dark, just 11 — less than half — did the same.
Four Aced the Tests; Four Failed Completely
The technology can work. Four vehicles — the Ford Mustang Mach-E, Nissan Pathfinder, Toyota Camry, and Toyota Highlander — all earned the top score even in the dark. "It's clear automakers can rise to this new challenge," says IIHS President David Harkey.
But four vehicles — the Chevy Malibu, Honda Pilot, Nissan Altima, and Toyota Tacoma — performed so poorly they weren't scored at all.
Trucks, SUVs Performed Poorly
Researchers also noted that pickup trucks and SUVs were more likely to fail the nighttime tests than cars. Every vehicle that scored a Basic rating, and half of those that failed completely, fell into those categories.
"It's discouraging that so many midsize SUVs and small pickups perform poorly in the nighttime test because research suggests these types of vehicles are more dangerous to pedestrians," says Harkey. Earlier IIHS studies have shown that pickups and SUVs are more likely than cars to kill pedestrians.
This seems to be a solvable engineering problem, however. Three of the highest-performing vehicles in this round of tests — the Mustang Mach-E, Pathfinder, and Highlander — are all SUVs.
The Ratings:
Superior
Advanced
Basic
No Credit