Ford Recalls Mustang Mach-E; Stops Deliveries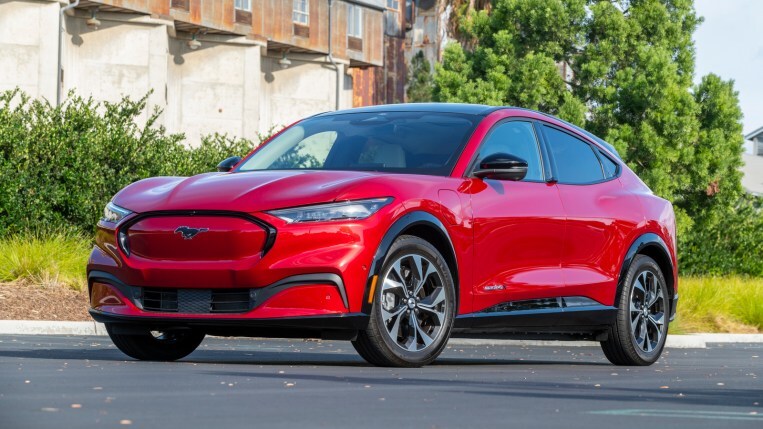 Ford
has issued a recall order affecting about half the
Mustang Mach-E
electric vehicles it has sold — almost 50,000 — and ordered dealers to stop deliveries of some Mach-Es still on dealership lots. An electrical defect can cause the cars to lose power suddenly.
The recall affects every Mach-E built between May 27, 2020, and May 24, 2022 — around half the total produced.
"Loss of Motive Power"
In documents filed with the National Highway Traffic Safety Administration, Ford explains, "Direct Current fast charging and repeated wide open pedal events can cause the high voltage battery main contactors to overheat. Overheating may lead to arcing and deformation of the electrical contact surfaces." That can deform the metal contact surfaces.
This leads to what Ford calls "a loss of motive power."
We buy cars to get some motive power.
Ford Can Fix Most Remotely
Thankfully, a simple software update can fix the problem. Ford expects to push out an over-the-air software update to correct the issue in July.
However, that fix doesn't address that some drivers may have already warped their battery main contactors. We'd encourage Mach-E owners to bring their cars in to a dealership to have the contactors inspected.
Ford says they'll reimburse expenses if you've already had work done because of the problem. "The ending date for reimbursement eligibility is estimated to be January 31, 2023," Ford says.
Ford has told dealers not to deliver Mach-Es built during the suspect dates until those cars get the software update.
Since the Mach-E has long been sold out, that only affects buyers waiting on delivery of a vehicle they've already reserved. They may have to wait longer than planned while Ford prepares the update. Dealers can deliver cars built after May 24, 2022.
Recall repairs are always free. Manufacturers attempt to contact every owner, but they don't always get to reach them all with the news. Find out if your car has ever been recalled at our recall center.