Gas Slips under $5/Gallon Average Nationally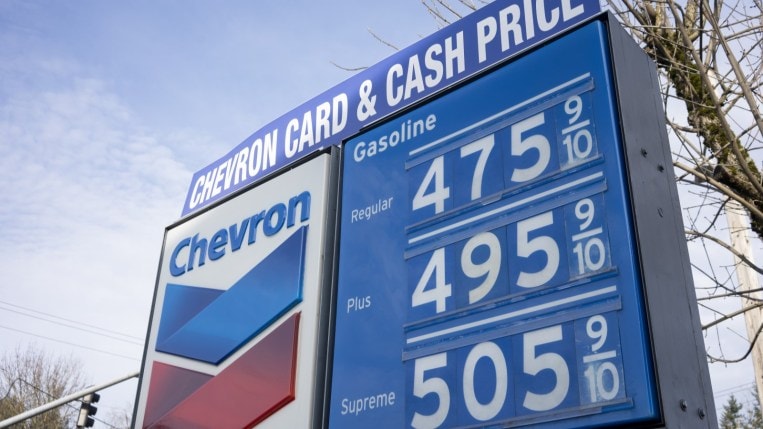 After nine weeks of rising, the price of gas has fallen. This morning, AAA reports, the average price of a gallon of gas in America is $4.98.
Prices vary widely from state to state. Georgia residents have the lowest average today, at $4.47. Californians pay an average of $6.38 today.
We're Driving Less
The federal government took several steps to improve the supply of gasoline when prices first began to peak in March. Federal regulators eased restrictions on ethanol to stretch the existing gasoline supply and began releasing 1 million barrels of oil per day from the nation's strategic stockpile.
Related — E85 Guide: Everything You Need to Know About Flex Fuel
Several states also waived gas taxes to lower pump prices.
But governments have made few changes since those early days.
That has left supply and demand alone to bring prices down. Those factors haven't made much difference, with Americans continuing their usual summer driving sprees despite $5 gasoline.
That trend may finally be reversing. According to the U.S. Energy Information Administration, Americans burned 9.09 million barrels of gasoline the week ending June 10 (the most recent week for which data are available). That's down about 3% from the same week a year ago.
Recession Fears May Be a Factor
Last week, the Federal Reserve enacted the highest increase in its benchmark interest rate in nearly three decades. The Fed designed the move to tamp down inflation.
Interest rate changes aren't a surgical tool used to trim prices. They're more like a valve in a damn. Regulators can change them in hopes of affecting the flow in rivers and tributaries many miles downstream.
The Fed's change shook markets, driving the price of oil down more than 6% in a single day. Changes in oil prices can take a week to bring changes in gas prices. So the Fed's decision may just be beginning to reach gas pumps.
But news of the change may have consumers tightening their belts now, deciding to forgo some summer trips.
Vivek Pandya, lead analyst for the economic analysis firm Adobe Digital Insights, told CBS MoneyWatch that Americans are beginning to trim back travel plans. "We're starting to see bookings falter a little bit relative to 2019," though Pandya notes, "spending is still pretty high because of the price increases we're seeing."
Analysts Aren't Sure Whether Price Cuts Will Last
Still, analysts are divided on where gas prices go from here.
Related: $5 Gas Hits some Drivers Harder than Others
Tom Kloza, global head of energy analysis for the Oil Price Information Service, told CNN, "Anything goes from June 20 to Labor Day. Come hell or high gas prices, people are going to take vacations."
But Patrick De Haan, head of petroleum analysis for GasBuddy, tweeted Friday that "the national average could fall to $4.55-$4.75/gal in the weeks ahead unless trends shift."