GM to Double Super Cruise's Road Reach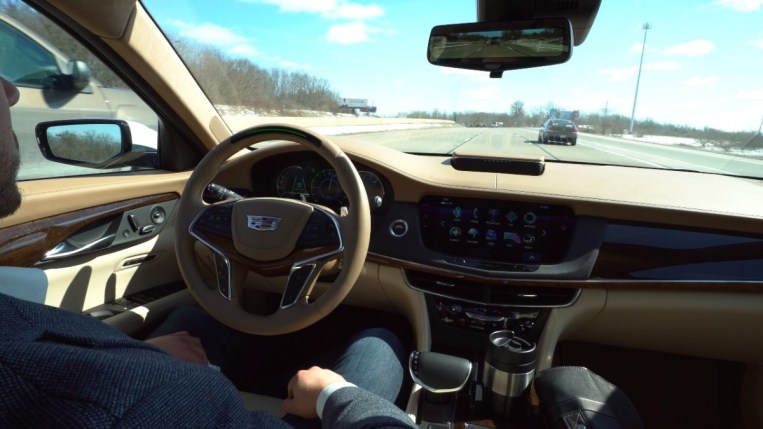 Today, GM's Super Cruise hands-free driving system works on more than 200,000 miles of highway in the United States and Canada. But an update coming to the system later this year will double that figure.
About Super Cruise
There are no truly autonomous vehicles for sale in the United States at this point in time.
Several automakers sell systems that allow drivers to remove their hands from the wheel. None let drivers take their attention from the task of driving.
Super Cruise is one of those. It functions only on roads GM has mapped with precision lidar scans. Systems in each Super Cruise-equipped GM vehicle use cameras, radar sensors, and GPS data, combined with the information from GM's mapping process, to guide the car along those pre-mapped routes at highway speeds. It prompts the driver to take over if it runs into anything unexpected.
Related: Self-Driving Cars – Everything You Need to Know
Update Includes Undivided Highways
GM has mapped much of the U.S. interstate highway system and similar divided highways in Canada. This latest update, GM says, adds "many additional state and federal routes, a combination of undivided and divided highway roads" to the map database.
The update adds sections of some iconic roads, including U.S. Route 66, the Pacific Coast Highway (California Route 1), and the Trans-Canada Highway.
The update, GM says, will be available "later this year" to vehicles using GM's Vehicle Intelligence Platform and the second generation of Super Cruise. That list includes the Cadillac CT4, CT5, and Escalade; the GMC Hummer EV and Sierra; and the Chevy Silverado.
GM plans to offer Super Cruise across most of its lineup by the end of 2023. The company plans a more advanced version known as Ultra Cruise, which works on surface streets with stoplights and signs, as a successor to Super Cruise.