"It's Got Cop Parts" – The 2023 Chevy Tahoe RST Performance Edition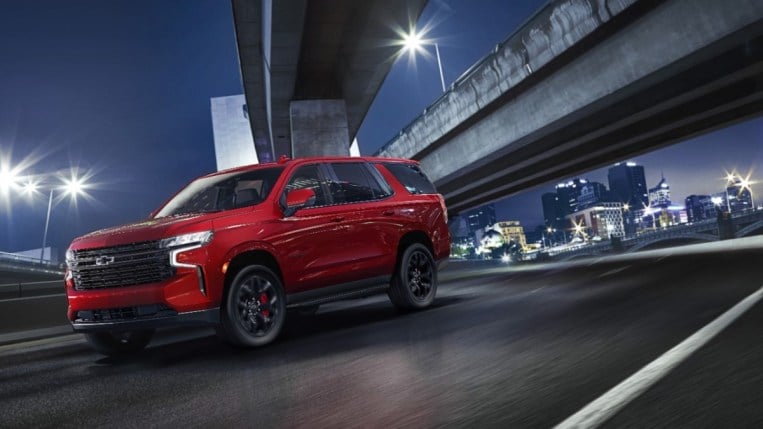 Elwood Blues to Jake Blues: "It's got a cop motor. It's got cop tires, cop suspension, cop shocks. What do you say? Is it the new Bluesmobile or what?"
Jake Blues to Elwood Blues: "No cigarette lighter. And it's an SUV. And how are we in 2022?"
Chevrolet today unveiled the 2023 equivalent of a 1974 Dodge Monaco sold at auction to a pair of blues musicians on a mission from God.
An Upgrade from the Tahoe RST
The 2023 Chevrolet Tahoe RST Performance Edition borrows a lot of tricks from the Tahoe Police Pursuit Vehicle, making them available to the rest of us. But only for a price out of reach for many on a civil service salary — the package adds $8,525 to the $66,595 price of the Tahoe RST (plus a $1,795 destination charge).
Under the hood is a 6.2-liter V8 making 433 horsepower — 13 more than that engine gets without the Performance Edition package. That's well short of Chevy's most powerful full-size SUV. The Escalade-V boasts a stunning 682 horses. But it's enough to get the brothers to Chicago in time for the gig.
With standard 4-wheel-drive and a 10-speed automatic transmission, it accelerates to 60 mph in 5.8 seconds.
Suspension Upgrades Make it Work
As Elwood says, it has cop shocks — beefier springs, retuned dampers, and a stiffer stabilizer bar than other Tahoe models. They're all borrowed from the police-spec Tahoe. It sits 0.4 inches lower in the front and 0.8 inches lower in the rear. Brembo brakes are 25% larger for added stopping power. Chevy claims a stopping distance of just 133 feet from 60 mph, which would be impressive for a vehicle of this thing's size.
Black RST badges are the only external clue that you're looking at a Performance Edition. Inside, you get aluminum pedals, a heated steering wheel, heated outboard rear seats, and added safety gear like rear-cross-traffic alert and blind-spot monitoring.
But alas, no cigarette lighter for Jake to throw out the window. RIP John Belushi. You probably would have vaped for the sake of the bit, anyway.