Jeep Grand Cherokee Gets 30th Anniversary Edition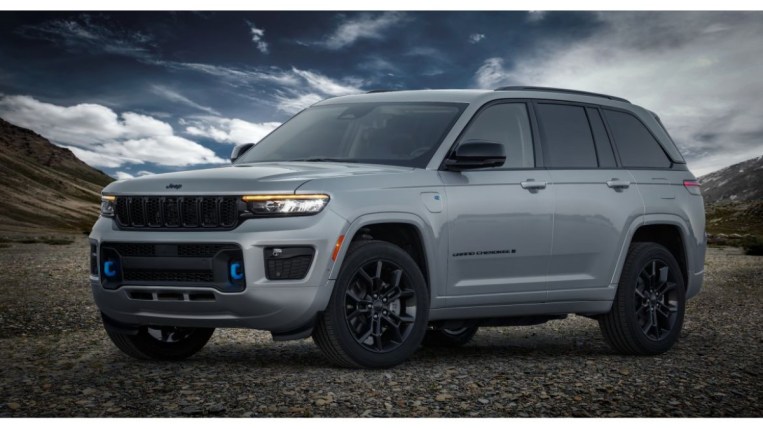 Jeep has revealed that the 30th Anniversary Edition package adds $4,700 to the price of the 2023 Jeep Grand Cherokee 4xe. But it hasn't revealed final pricing on the SUV itself, so we can't do the math yet. The 2023 model starts at $58,095, and we expect a slight increase.
One of the most recognizable vehicles on the road celebrates its 30th birthday this year. The Jeep Grand Cherokee is now old enough to question its choices. Jeep will celebrate with a special edition and, as befits a 30th, probably a hangover whose intensity comes as a surprise and a lesson in what's to come.
Getting a Bit Quieter in its Maturity
The Grand Cherokee made its debut in 1992 alongside the Clinton administration and "The Silence of the Lambs." Jeep drove it right through a plate glass window on stage at the 1992 edition of Detroit's North American International Auto show, and the Ford Explorer shook in its tires.
The 2023 Jeep Grand Cherokee 4xe 30th Anniversary Edition makes its debut at the 2022 edition of that same show. But there's no messy cleanup this time.
Instead, we get a sophisticated-looking machine and a glimpse of the future of driving.
He's Embracing Progress Now
That future is partly electric – the 30th Anniversary Edition is a 4xe model ("four-by-E" in Jeep parlance), giving it 25 miles of all-electric range before its 2.0-liter turbocharged 4-cylinder engine even turns on. The combination is good for 375 horsepower.
The birthday model wears darkened trim and black badges – an elegant look for a new maturity. It rides on 20-inch black wheels and has a body-color roof instead of the contrast color scheme common to 4xe models. The signature blue tow hooks of the 4xe poke out of the front fascia.
Dressing Up a Bit for His 30s
Inside, it features black Capri leather seats (heated and cooled up front). A wireless phone charging pad is standard, along with a 9-speaker Alpine audio system. Wireless Apple CarPlay and Android Auto come standard. Other standard features include front/rear park assist, Intersection Collision Assist, passive entry, rain-sensing windshield wipers, digital rearview mirror, and a 360-degree surround-view camera system.
Jeep dealers will begin accepting orders for the 30th anniversary Grand Cherokee "later this year."