Lucid Taunts Tesla With Air Sapphire; Claims 0-60 in Under 2 Seconds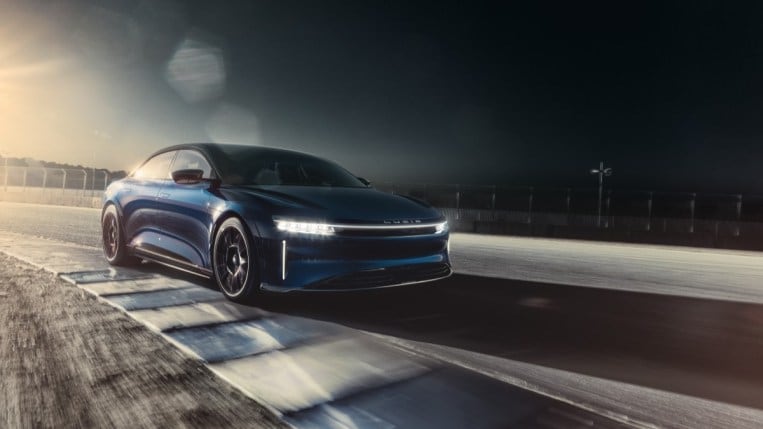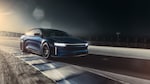 There's a second very real car putting up comic book performance numbers, and the company behind it is taking public shots at the first, setting up an inevitable showdown we all get to win.
In one corner will be the old contender, the Tesla Model S Plaid. It offers 1,020 horsepower, 390 miles of range, and claims a 0-60 mph time of under 2 seconds. It costs $140,490 (plus $1,200 to deliver). And, if you place an order today, it can be yours fairly quickly – Tesla says deliveries are happening next month.
In the other will be the challenger, the Lucid Air Sapphire. It boasts over 1,200 horsepower, more than 400 miles of range, and claims a 0-60 time of under 2 seconds. It costs $249,000, and Lucid says production will start in "the first half of 2023."
What Is the Lucid Air?
By now, you're probably familiar with Tesla. Fewer people know California-based Lucid Motors.
It's another electric-car startup with a similar business model, offering high-end battery-powered luxury sedans in the hope that selling in the most-expensive classes first will finance its growth into more affordable segments of the auto industry.
Its first product is the Air – a wide, low-slung sedan that the EPA rates as the longest-range electric car built today. Some versions of the Air are rated for up to 520 miles of driving on a single charge.
What Is the Air Sapphire?
Most luxury automakers eventually launch a high-performance division aimed at building faster, more nimble versions of already-exceptional cars. Like BMW's M Division or the Lexus F lineup, these in-house tuner shops sell ultra-high-performance versions of an automaker's vehicles at a significant premium.
Tesla has something similar, though the company doesn't market its high-performance trims as an entire sub-brand. It just calls them Plaid editions. If the name seems confusing, watch the 1987 sci-fi comedy Spaceballs and remember that Tesla CEO Elon Musk leans into his nerd credentials in marketing his products.
Today, you can buy Tesla's top-of-the-line Model S sedan and Model X SUV in plaid editions. We've heard nothing about plans for Plaid versions of the cheaper Model 3 sedan or Model Y SUV.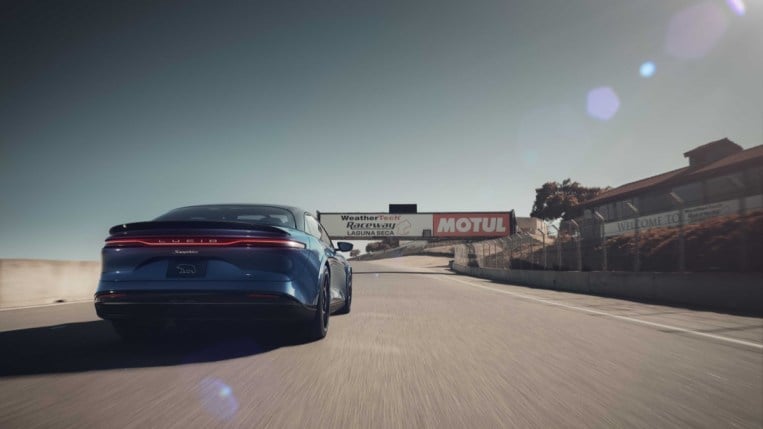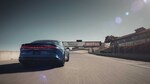 Lucid, likewise, has built an ultra-fast version of its first sedan. At more than 1,200 horsepower (Lucid hasn't revealed the actual figure), it's arguably the most powerful 4-door car ever built for series production. Lucid claims a top speed of over 200 mph, putting it in a rare class of vehicles.
Most of the cars capable of that kind of speed seat two people at best. But the Air is a full-size sedan capable of comfortably carrying four adults.
The Air Sapphire uses three electric motors – one on the front axle and one for each rear wheel. It also uses "stiffer front and rear springs, unique damper settings, stiffer bushings, and a unique tuning for ABS, traction, stability control, and electronic power steering," the company says.
It's the First Product From a Sub-Brand
Lucid plans to take the high-performance concept further than Tesla. The company will build an entire sub-brand of high-performance cars called Sapphire. That's an ambitious move for a company that only has one product. But Lucid's second is on the way – the Gravity SUV – and there's a good argument to be made that building an internal performance brand helps spread buzz about new cars.
And few things spread buzz like a slap.
What Is This Beef About?
In its marketing materials for the Air Sapphire, Lucid claims that the car achieves all its breathtaking performance numbers "with no extra-cost equipment upgrades or protracted preconditioning routines."
Those are fightin' words aimed squarely at Tesla.
Musk spent months in 2021 talking up the company's planned Model S Plaid Plus edition – one designed for the record books to be the most powerful sedan in history. He then abruptly canceled it, saying the lower-trim Plaid edition was "just too good." It, Musk said, would post a 0-60 mph time under 2 seconds. So Tesla didn't need an upgrade on the Plaid.
But the Plaid, arguably, hasn't cashed every check Musk wrote with his promises. For one thing, the company says the Plaid can achieve the claimed numbers only with the aid of a tire upgrade – which is theoretically coming later.
For another, journalists haven't been able to reproduce the sub-2-second sprint Tesla claims. When Motor Trend tried to replicate it, Tesla insisted they could only Test the Plaid on a track prepared ahead of time with a special tacky surface adhesive sometimes used at drag races.
No publication has yet managed to post a sub-2-second time in a Plaid without the sticky stuff.
Lucid claims it will back up its own words with "instrumented demonstrations of the incredible performance capabilities of the vehicle" at a later date.
We'll let you know if they show up with proof and if so, whether Tesla has an answer.