Mac mini M2: release date, specs and rumours
It's about a year and a half since Apple introduced two Mac mini models with the M1 chip (reviewed here: M1 Mac mini review). The Mac mini starts at $699/£699 and offers the exact same processor and graphics options as more expensive MacBook and iMac options. Of all the M1 Macs on offer from Apple the Mac mini is our favourite as we think it offers the best in terms of specs coupled with a low price. 
Now that Apple has launched a M2 MacBook Air and M2 MacBook Pro attention has turned to the Mac mini, which has been neglected in that round of updates. Mac fans are now wondering when Apple will update the Mac mini with an M2 chip. In this article we will look at what the M2 Mac mini might offer, and when it will launch.
Work on the new M2 Mac mini is evidently taking place at Apple. Bloomberg's Mark Gurman has reported that Apple is testing an M2 Mac mini, codenamed J473, with eight CPU cores and 10 GPU cores. Gurman also indicated that Apple is testing a Mac mini with an M1 Pro, codenamed J374 and an M1 Max Mac mini, but it's possible this model won't ship. We discuss the M1 Pro Mac mini separately, so if that's the Mac mini upgrade you are most interested in read: New Mac mini 2022 with M1 Pro: What you need to know.
Mac mini M2: Release date
A M2 Mac mini is expected in 2022 – perhaps in October.
Apple introduced the M1 chip in the Mac mini, MacBook Air and 13in MacBook Pro at its One More Thing event on November 10 2020. Two of those Macs now have M2 chips, so what about the Mac mini? As the M1 Mac mini approaches its two year anniversary, the introduction of a M2 Mac mini in the fall of 2022 doesn't only look likely, it looks tardy.
We could be waiting until 2023 though. In March 2022 an unverified Twitter account for analyst Ming-Chi Kuo stated that a new Mac mini will ship in 2023. He doesn't offer specifics, but it's possible this 2023 Mac mini could be the M2 Mac mini.
Mac mini M2: Design
The Mac mini has had a similar square design ever since Apple introduced it in 2005, over time it has gotten thinner, lost the CD drive, and had a color change. The next Mac mini could get a brand new look, according to reports.
Jon Prosser claimed back in June 2021 that the next Mac mini will shrink even further, which could put it at less than an inch tall. The body could be getting a change too. While the Mac mini has had its aluminum chassis since 2010, Apple is reportedly considering a "plexiglass" top, according to Prosser. That could mean Apple will bring a little pizzazz to the Mac mini, which is currently limited to silver and space gray.
Prosser shared the news in a May 2021 edition of Front Page Tech, embedded below:
It should be pointed out that Prosser has been wrong on several occasions before – he's had some big hits, but his misses include one so severe that he had to shave his eyebrows – so the information should be taken with a pinch of salt.
AppleTrack currently gives him an accuracy rating of 74.2% (that score changes all the time). Read more about the Apple leakers in our round up:
The Apple leakers worth following.
Ian Zelbo made some illustrations based on Prosser's findings. The renders indicate that the new mini will come in silver and white, rather than one of the new bright colour options seen on the 24in iMac. These renders are based on information from Prosser's sources, but they may still give a good idea of what Apple could unveil.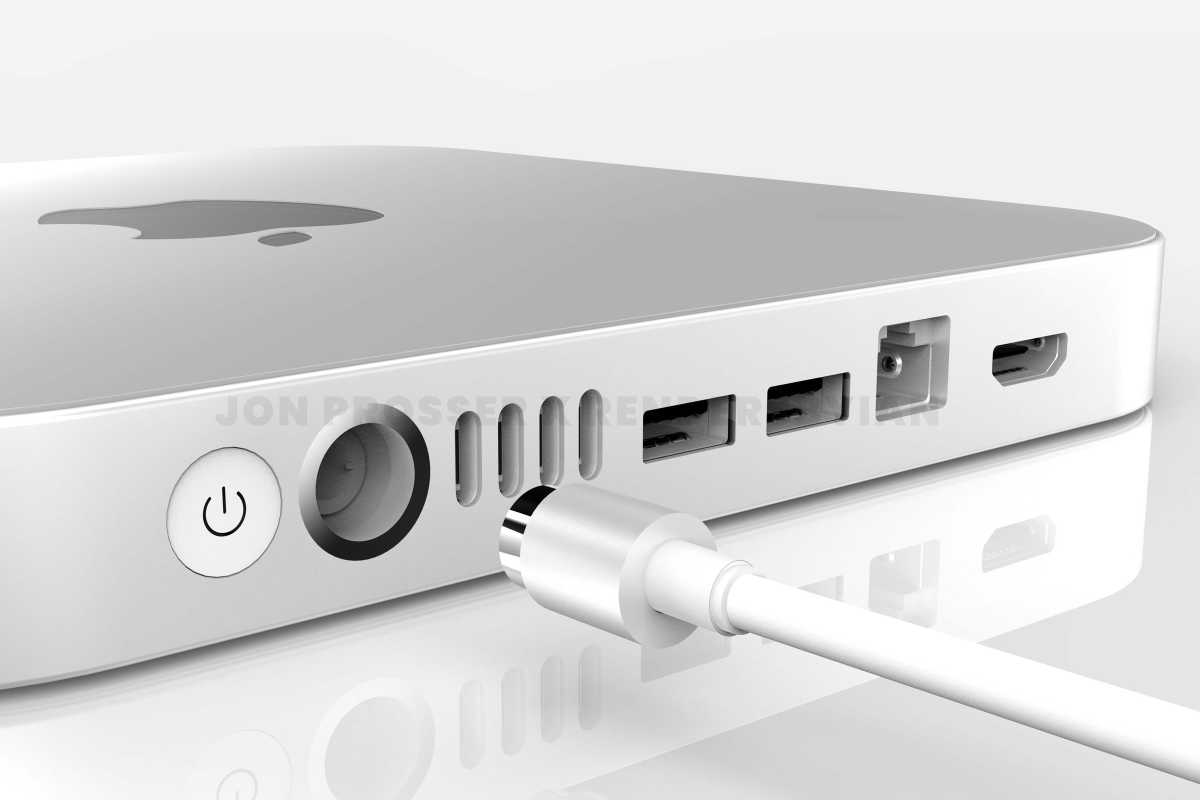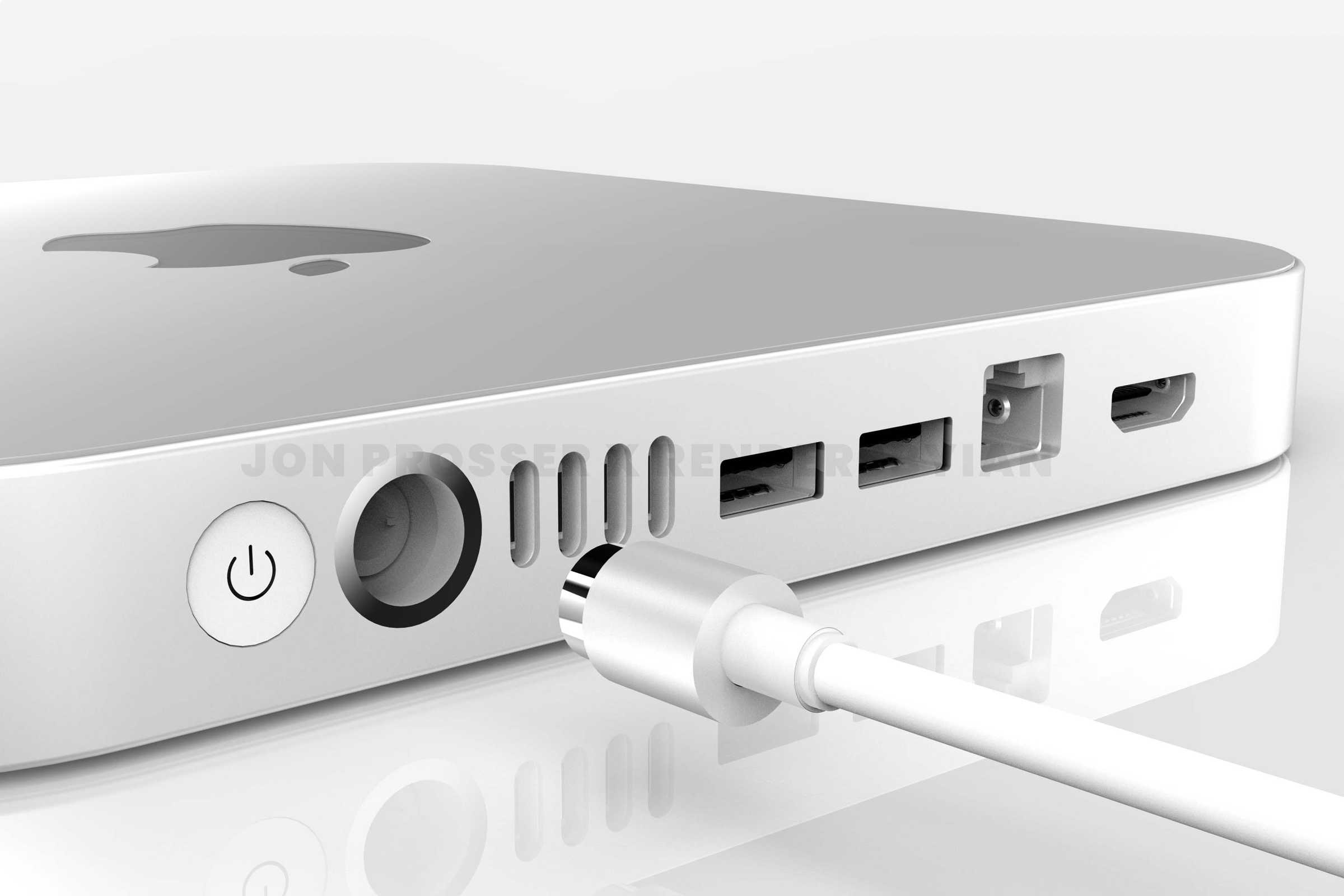 Prosser isn't the only one expecting a new look Mac mini. In August 2021, Mark Gurman of Bloomberg reported that the Mac mini will have "an updated design and more ports than the current model."
Finally, the circular rubber pad on the bottom of the new Mac mini is said to be replaced with two horizontal strips as we see on the underside of the 24-inch iMac stand.
However, there may be no redesign in the pipeline. In March 2022 a tweet from an account claiming to be for analyst Ming-Cho Kuo stated that the 2023 Mac mini will have the same form and design as the current model.
Mac mini M2: Spec
The Mac mini is likely to get the same M2 chip as the one found in the 2022 MacBook Air and 2022 13in MacBook Pro.
CPU: 8-core CPU with 4 perform­ance cores and 4 efficiency cores
GPU: 8-core or 10-core GPU
Up to 24GB Unified Memory
To find out more about the M2 chip read: Apple M2 Chip: Everything you need to know.
Ports
The  current Mac mini models offer two USB-4/Thunderbolt ports, two USB-A port, an HDMI 2.0 port, as well as Ethernet snd a headphone port. It's likely that this will carry through to the new iteration. The M1 Pro version of the Mac mini could get two additional Thunderbolt/USB-C ports for a total of four.
Prosser says the new mini likely won't bring back the SDXC card slot that appeared on the MacBook Pro and Mac Studio.
Mac mini M2: Price
Currently the M1 Mac mini is priced as follows:
M1 Chip with 8-Core CPU and 8-Core GPU, 256GB: $699/£699
M1 Chip with 8-Core CPU and 8-Core GPU, 512GB: $899/£899
3.0GHz Intel Core i5 6-Core Processor with Intel UHD Graphics 630, 512GB: $1,099/£1,099
It is possible that Apple will do the same as it did with the MacBook Air and keep the M1 Mac mini on at $699/£699 while introducing two new M2 models to replace the $899 and $1,099 options. We hope that Apple includes an M1 Pro or M2 Pro model in the line up though.