Mercedes-Benz EQS Electric SUV to Start at $104,400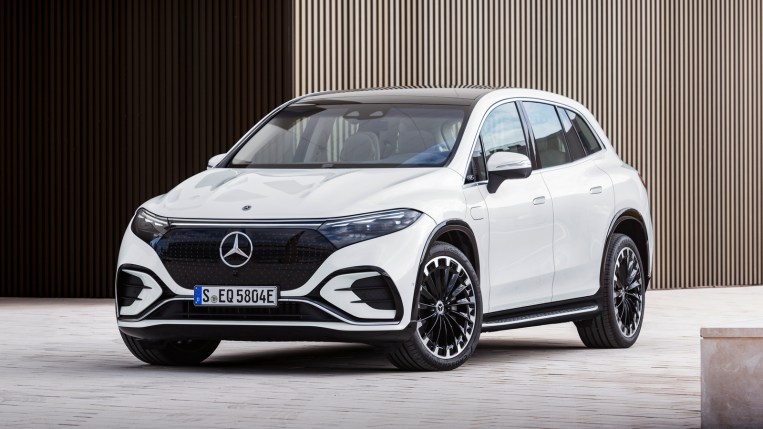 The 2023 Mercedes-Benz EQS SUV will start at $104,400, plus a $1,150 destination charge
Mercedes-Benz will sell a pair of electric flagships – one a sedan, one an SUV – under the same name and asking for the same price. The 2023 EQS SUV is the second of the two to appear. It will carry a sticker price of $104,400 plus a $1,150 destination charge. That's the same price as the 2023 Mercedes-Benz EQS sedan.
Prices climb to $132,200 fully equipped — more than the sedan's $124,950 high end (excluding the AMG model, for which Mercedes hasn't revealed pricing yet).
Mercedes is in the process of going electric in markets that build enough infrastructure to support the change. Rather than replacing its gas-powered models with electric equivalents, the company is offering one gas-powered and one electric model in most market segments for the 2023 model year.
Top-of-the-Electric Line
The EQS SUV is the electric equivalent of the GLS. It's available with two or three rows of seating and every feature the builder of some of the world's most luxurious cars can pack into a vehicle. Options include a Burmester surround-sound system with a separate amplifier channel for each speaker, a Hyperscreen that covers the entire dash with a touchscreen surface, a fragrance system, and a nap mode that lulls you to sleep with nature sounds and wakes you with a gentle massage. There is no exaggeration in that sentence.
The EQS SUV comes in three flavors.
The starting point — called 450+ — uses a single electric motor driving the rear wheels with an output of 355 horsepower, good for 305 miles of driving between charges. A step up to the 450 4Matic adds a second motor on the front axle for all-wheel-drive grip, though Mercedes says power output stays at 355 hp. A top-of-the-line EQS 580 4Matic puts out 536 horsepower and gets 285 miles of range.
2023 Mercedes EQS SUV Pricing:
Mercedes also charges a $1,150 delivery charge on all EQS SUVs.
| | | |
| --- | --- | --- |
| Model | Trim Level | MSRP |
| EQS 450+ | Premium | $104,400 |
| EQS 450+ | Exclusive | $108,650 |
| EQS 450+ | Pinnacle | $110,650 |
| EQS 450 4Matic | Premium | $107,400 |
| EQS 450 4Matic | Exclusive | $111,650 |
| EQS 450 4Matic | Pinnacle | $113,650 |
| EQS 580 4Matic | Premium | $125,950 |
| EQS 580 4Matic | Exclusive | $130,200 |
| EQS 580 4Matic | Pinnacle | $132,200 |