Mercedes Reveals Off-Road Special G-Wagon 4×4 Squared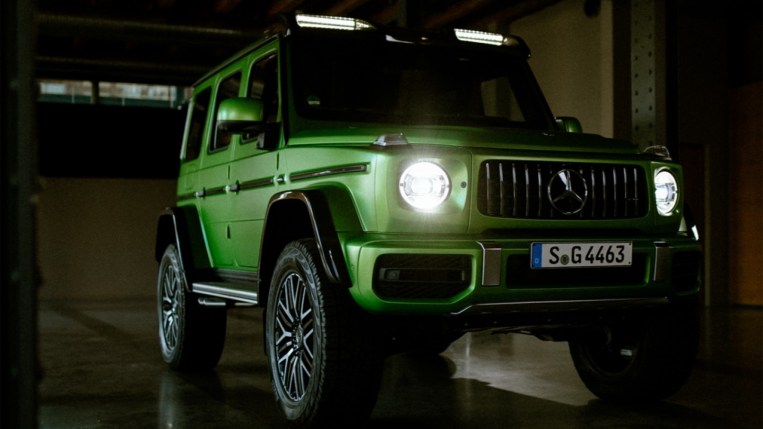 Off-road specials are almost getting commonplace. Even vehicles already known for their off-the-pavement prowess now routinely get trail models. The
F-150 Raptor
. The
Tacoma TRD-Pro
. The
Bronco Everglades Edition
. The
Wrangler Xtreme Recon
.
They're all pricey, and they're all impressive in the mud.
So, how can an automaker looking to build a reputation for its own off-roader up the ante?
Portal axles.
G-Wagon, Squared
Today, Mercedes introduced the Mercedes-AMG G 63 4×4 Squared — an off-roader with ground clearance so high it ought to file a flight plan.
Mercedes hasn't even hinted at pricing. But we should note that the AMG G 63 starts at $156,450, and this version is significantly more complex and luxurious. We expect a price tag of over a quarter of a million dollars. Orders start late this year.
Mercedes says it will build a limited number of these but hasn't specified how many.
"Last of Its Kind"
It's probably the most luxurious dedicated off-roader you'll ever see. It's also, Mercedes says, "the last of its kind." It's not clear what that means. With the brand going all-electric by 2030, this may be the last gas-powered Mercedes trail monster. But we doubt Mercedes will give up on making off-roaders altogether.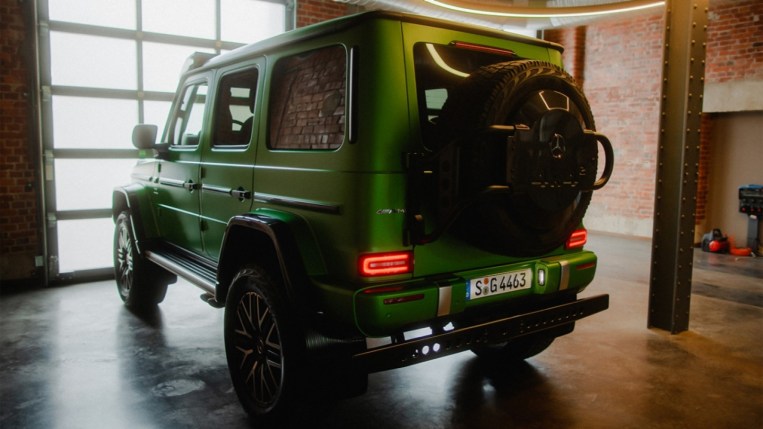 The 4×4 Squared is based on the already-exceptional AMG G 63. It comes equipped with a twin-turbo 4.0-liter V8 making 585 horsepower (eight more horses than even the "normal" G63) and a 9-speed automatic transmission, given the AMG tune for quicker shifts. Power goes to all four wheels all the time.
Even the Axles Are Raised
What's notable is how it gets to them. The 4×4 Squared is one of the only production models to use a method some of the more extreme off-road modification shops employ to drastically improve a vehicle's off-road capability.
The 4×42 has portal axles.
In most cars, the axles connect directly to the wheels. In Mercedes' newest 4×4, they don't. Instead, the wheels each have their own separate gearbox connected to an axle that sits higher than the center of the wheels. That gives the 4×4 Squared 13.8 inches of ground clearance and a 35.8-inch fording depth.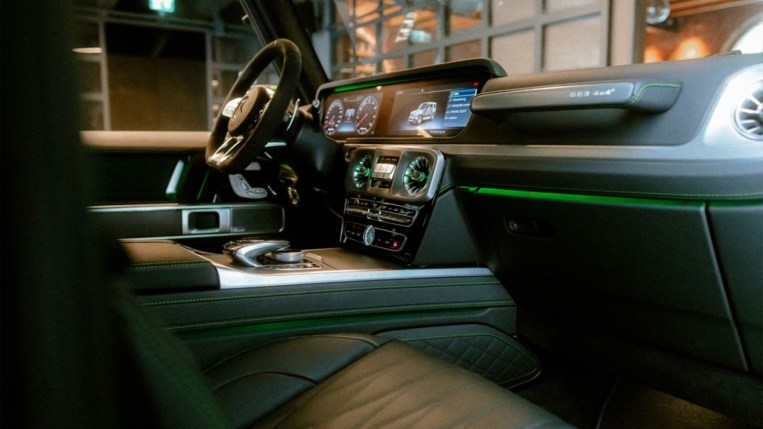 Customizable Cabin
Visually, it looks like a taller AMG G 63 with wide fender flares made of carbon fiber. They seem to be real carbon fiber, too, even though off-roaders rarely tend to care about weight savings the way track performance drivers do. It also has a bumper under its bumper — the 4×42 is so much taller than a traditional G-Wagon that engineers suspended a steel bumper bar under the bodywork bumper. Otherwise, if someone rear-ended you in this thing, they'd probably go under the designated hitting spot.
The interior looks like, well, whatever you specify it should look like. Mercedes' special G-Manufaktur program will build the cabin to the buyer's specifications. Did we mention this thing is probably pricey? Mercedes will offer at least 40 interior color schemes. You can also order hardwood flooring in the cargo area, because everyone knows it's easier to get mud off hardwood floors than out of carpet.