Mini Previews Electric Future with Aceman Concept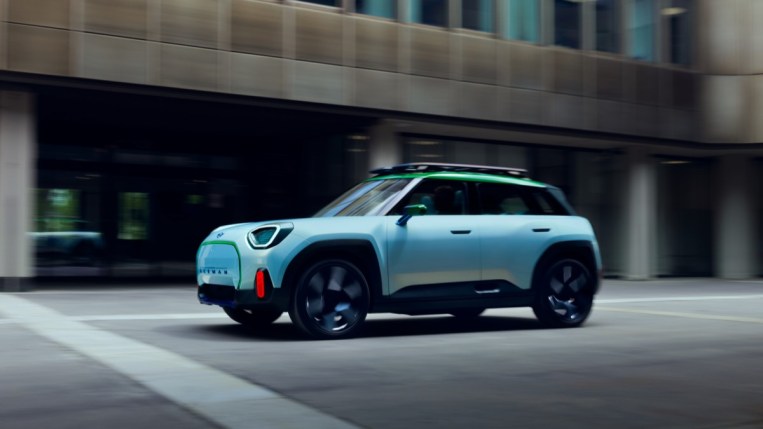 Few car brands have as distinct a visual signature as Mini. A simple silhouette instantly defines a car as a Mini. If any other car company were to design something similar, it would feel like a cheap trick. That must make designing a new Mini challenging — how do you update an icon without just watering it down?
But someone got the assignment. Mini has promised to sell nothing but electric cars by 2030. So the company needs to figure out what an electric Mini looks like. It needs a look that is Mini enough to be instantly recognizable but different enough to spark curiosity about what's new.
Enter the Mini Aceman (not to be confused with the Mini Paceman).
Updated Silhouette
The Aceman is just a concept — a design study intended to show what future cars might look like. But Mini calls it "the dawn of a new Mini design era" and a signal of what's to come.
The company has offered no mechanical details beyond saying that the Aceman is all-electric. So we'll focus on aesthetics for now.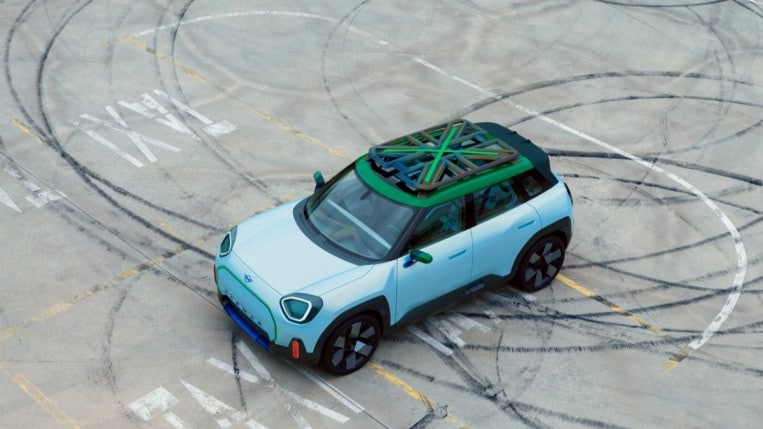 It updates the traditional Mini silhouette by insetting the rear pillars more than we've seen before, giving clearer separation between sheet metal and glass. But the proportions are within the usual range — 10 inches shorter than the Countryman crossover but almost identical in height and width.
The wheel wells are more angular than any prior Mini.
Appreciating those changes is a matter of taste. But to see Mini drift a little closer to everyone else's designs makes us a little nervous.
Familiar UK Flag Theme
Thankfully, they fix that problem with Union Jacks. There are, of course, the usual Union Jack tail lights. But designers have outdone themselves, adding a roof rack based on Her Majesty's Naval Ensign.
EVs lack traditional grilles (no engine to cool). Designers outlined the absence of one in an LED light strip and replaced it with a pixelated set of LEDs that can light up as — we'll give you one guess.
Yup: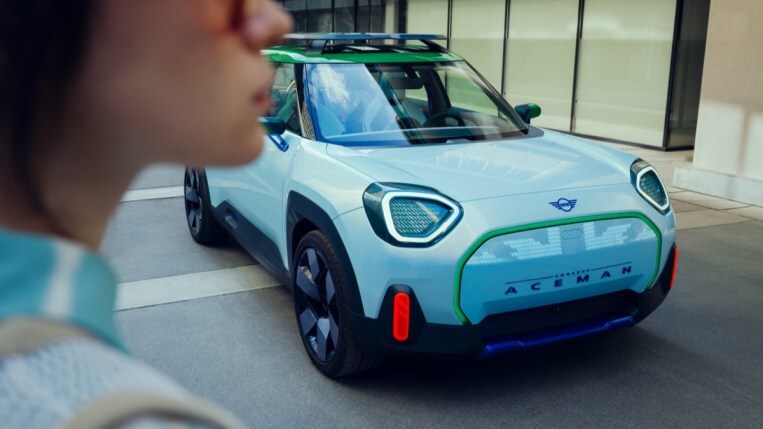 Interior — No Leather, Chrome, or Aesthetic Restraint
The exterior is tame enough to be believable as a production car. But…there's no way around this… inside it looks like some cyberpunk clown graffiti artists are probably in trouble for this. The seats wear a riot of fabrics stitched in nearly-random patterns, including signs of a tic-tac-toe game in neon colors.
The classic circular center cluster has been replaced with a circular touchscreen. It juts forward from the dash by a few inches. That allowed designers to affix projectors to the rear and sides of it, which project moving images onto the rest of the dashboard like light graffiti.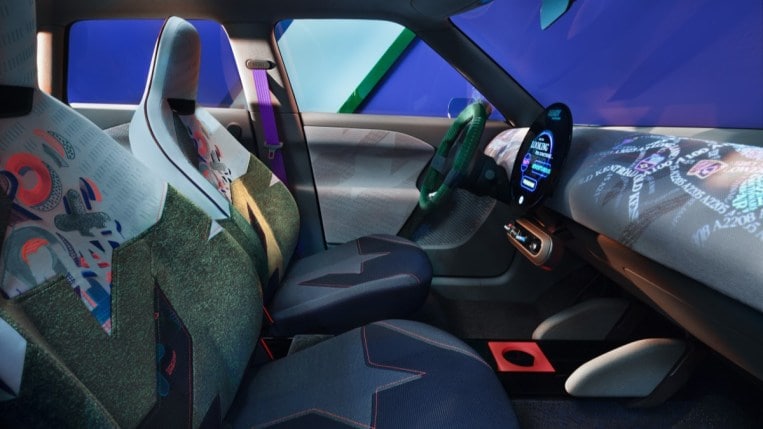 Most concept cars include flourishes that never make it to production. We're confident that Mini's safety experts will nix the moving light show on the dash before this becomes an actual product.
What probably will make it into production Minis is the total lack of chrome and leather. Mini calls it "responsible material design."
The Aceman isn't meant to preview a specific production car, so we don't expect to see it for sale. But Mini says it "puts the spotlight on the design and technological innovations MINI sees as defining the brandtypical driving pleasure of the future." Brandtypical. Because why not invent words to describe a car with a green velour steering wheel?
The Aceman will, fittingly, make its first public appearance at next month's Gamescom 2022 computer and video games fair in Germany.