New Mustang, New Most Powerful Mustang – Meet the Dark Horse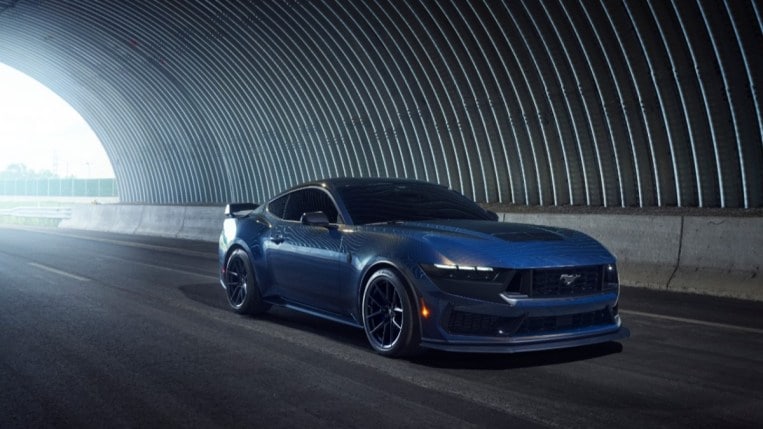 Ford hasn't even hinted at the price of the 2024 Mustang Dark Horse. We expect it to start in the low $60,000 range.
Ford unveiled an all-new Mustang last night. Half an hour later, the Dark Horse came stalking.
A new Mustang always generates a stable full of new high-performance versions. But it's always the same contenders. Shelby models. Bosses. Cobras. Bullitts. Ford says it's been 21 years since it launched an entirely new Mustang special edition.
But here it is.
The 2024 Ford Mustang Dark Horse will be the most powerful Mustang on offer until the Shelby models start rolling out. It strikes a balance between speed and luxury and wraps it all in a sinister-looking package. Ford calls it "the most track-capable 5.0-liter V8 street-legal Mustang ever."
There are a lot of qualifiers in that boast, but it's an impressive one all the same.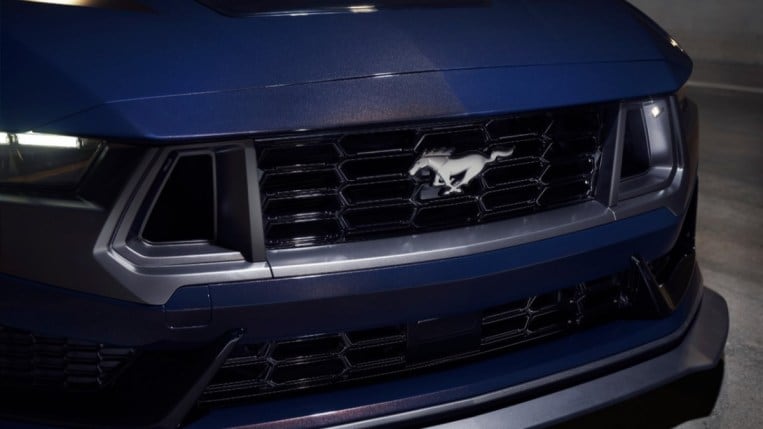 Few Performance Details for Now
The Dark Horse carries a version of the 5.0-liter Coyote V8 found in the 2024 Mustang GT. The company hasn't revealed power figures for the base car. But Ford calls the Dark Horse "the most powerful 5.0-liter V8 ever, projecting 500 horsepower."
It uses a dual throttle-body intake and piston connecting rods borrowed from the 760-horsepower Mustang Shelby GT500.
A 6-speed TREMEC manual transmission is standard, with an oil cooler design unique to the Dark Horse. A 10-speed automatic is optional.
The Dark Horse, Ford says, "provides unique chassis tuning, larger rear sway bars, and heavy-duty front shocks." The MagneRide suspension optional on other Mustangs is standard equipment here. A new lightweight strut tower brace and Torsen rear limited-slip differential enhance steering response.
It all rides on Pirelli P Zero tires, meaning both impressive grip and eye-popping tire replacement costs.
An available handling package does its job through added downforce, thanks to a Dark Horse-specific rear wing with an integrated Gurney flap.
Carbon fiber wheels will be available later in the production run.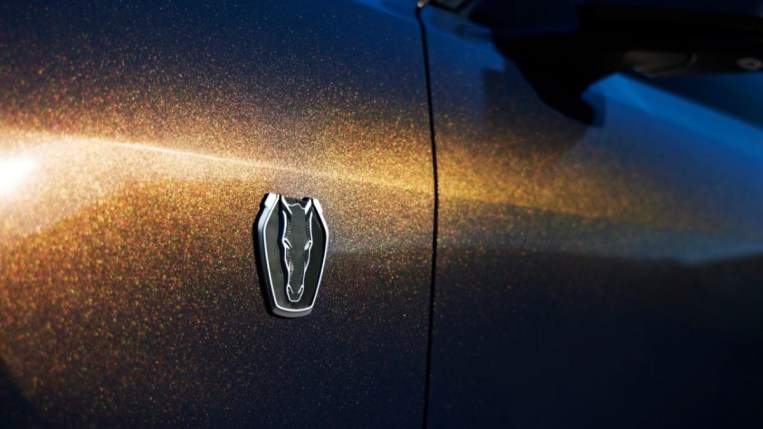 Horse in Shadow
The Mustang Dark Horse leans into the dark-trim trend that has taken hold at nearly every automaker over the last two years.
It comes in just one color – Blue Ember metallic – with darkened headlight surrounds and huge trapezoidal air vents beside the glossy black grille. The Dark Horse used in press photos features a matte black decal on the hood scoop, which reduces glare and looks fantastic. But Ford says, "A choice of applied or painted feature graphics along the roof and down the hood are also available in a variety of colors and styles."
Probably the best-looking exterior touch, though, is a set of badges unique to the model. Silver-on-black, they feature a horse's stare so menacing that you could forget horses are twitchy prey animals. They're prominent on the fenders, trunk, and door sills.
Indigo-on-Black Theme Inside
Inside, the most visceral change is a thicker, flat-bottom steering wheel wrapped in real suede with indigo accent stitching. Automatic-equipped models get anodized silver paddle shifters.
That same blue accent stitching shows up on the door panels, seats, dash, and shift boot. Matching blue seatbelts complete the look. An optional Dark Horse appearance package adds Deep Indigo Blue seats.
All 2024 Mustangs pair a 12.4-inch digital driver's screen with a 13.2-inch central touchscreen housed in a single shell, so they flow together like one screen.
A Bang & Olufsen 12-speaker premium sound system comes standard.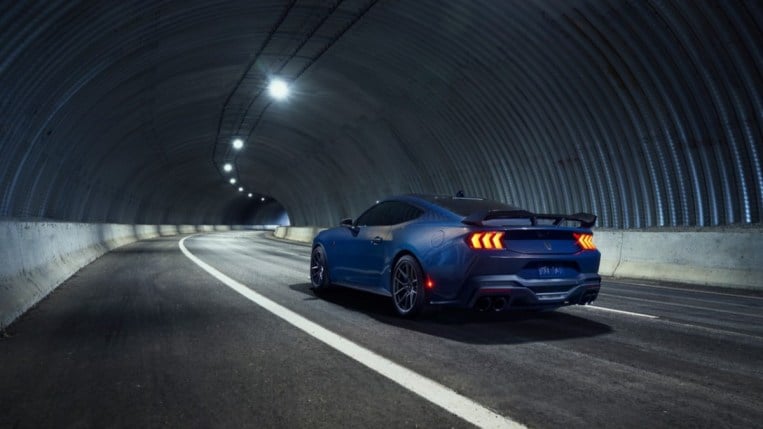 Track Versions Coming
Ford will offer two track-only versions at a later date. They include the Dark Horse S for hobbyists and the Dark Horse R for racing. Both come equipped with a safety cage, race seat, race steering wheel, fire suppression system, and just about everything else removed for weight savings. The R is distinguished by a race fuel system and serialization required by some race series.