Next Ford Super Duty Truck to Appear This Month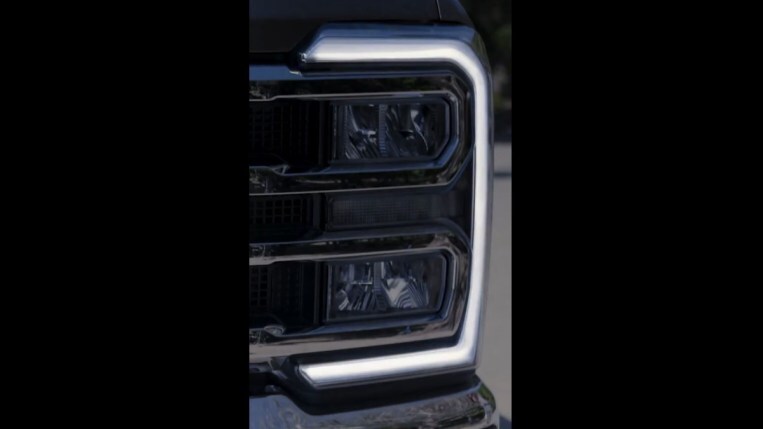 We expect the 2023 Ford Super Duty to start at around $40,000, but prices can climb close to six figures fully equipped
The next-generation Super Duty will appear in full on Sept. 27
Ford's workhorse F-150 pickup got a full redesign for the 2021 model year, but its work Clydesdale big brothers have had to wait a full two model years for their update. It's coming at the end of the month.
Ford today teased a new generation of Super Duty pickups – the F-250, F-350, and F-450 heavy haulers that make up much of America's towing and hauling fleet. The automaker posted a brief, 11-second video to Twitter that tells us…well…almost nothing about the long-awaited update.
It has headlights. It has tires. That's about all we got from it, but take a look yourself.
The All-New Super Duty® truck is coming. 9.27.22 🛻 pic.twitter.com/MMl1CICGJ7

— Ford Trucks (@FordTrucks) September 16, 2022
The headlight treatment is new, with the bracket-shaped LED running lights that now seem ubiquitous on Ford trucks surrounding a much more old-school, square set of high and low beams.
New Engine Likely; Hybrid, Electric Options Unlikely
Ford Authority, an enthusiast site not affiliated with Ford, has reported that the new Super Duty will get an all-new, 6.8-liter V8 engine and a convenient bed step built into the bodywork ahead of the rear wheels. The site also says Ford will offer no hybrid option.
The arrival of the all-electric Ford F-150 Lightning is arguably the biggest news in trucks this year, but there's no word on when Ford might offer an electric Super Duty. Testing has shown that towing tends to cut the range of an electric truck by as much as half.
Many gas-powered trucks also see their range cut significantly by towing, but refueling a gas-powered truck is a much quicker affair than recharging an electric one. Engineers may need to solve that problem before heavy-duty electric trucks become practical for many users.