Recall Alert: Cadillac XT5, XT6, GMC Acadia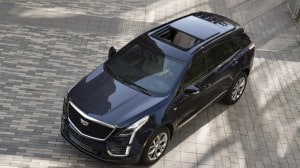 General Motors has issued a recall alert for a small number of SUVs because, in the event of a rollover crash, a system designed to prevent fuel leaks may not work. That could lead to a vehicle fire, compounding the obvious problem of a vehicle rollover.
The recall affects 228 vehicles in total, all from model year 2022 – 64 Cadillac XT5 SUVs, 29 Cadillac XT6 SUVs, and 135 GMC Acadia crossovers. All are all-wheel-drive models. No front-wheel-drive models are affected.
In documents filed with the National Highway Traffic Safety Administration, GM explains, "The rollover valve in the fuel tank in some of these vehicles may not provide a proper seal in the event of a rollover crash."
The problem developed at the factory. During the manufacturing process, technicians perform a test to check the integrity of the fuel pump connection. For several weeks in spring, GM has determined, a technician may have inadvertently dislodged the rollover valve during that testing.
Dealers will inspect the fuel tank. They will replace the tank shell if the valve is found to be out of place or missing. The fix is free.
Many cars face recalls at some point in their lives. Automakers try to contact every owner to let them know they need to bring their vehicle in for repairs. But they aren't always successful in finding everyone. You can see whether your car has any unaddressed recall issues using our recall center.