This is the Most Popular 2022 Mazda CX-30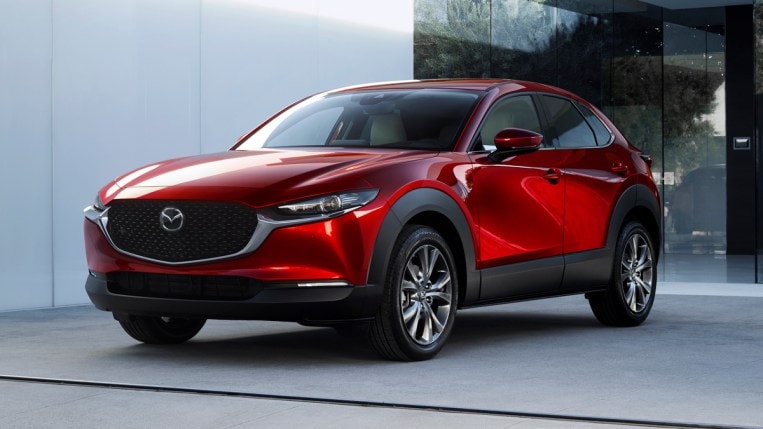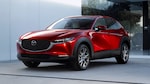 The 2022 Mazda CX-30 proves fun and functional are not mutually exclusive terms when shopping for a small SUV. We know that sporty handling isn't always a major priority for people who want the added ride height, extra cargo space, and all-wheel drive (AWD) in an SUV with city-friendly proportions.
Trust us; a test drive of the CX-30 shows you can maintain your practical side and still enjoy the ride when the road is full of twists and turns. This Mazda SUV dances around corners and reminds you this is the same automaker that builds the delightfully balanced MX-5 Miata roadster.
The 2022 CX-30 comes standard with AWD and has a starting price of $22,500, which is highly competitive for its segment. Rivals include the Kia Seltos, Hyundai Kona, Chevrolet Trailblazer, Jeep Renegade, Honda HR-V, and Nissan Kicks. Of its eight available trims, the CX-30 Premium is the most popular of them all.
This version of the CX-30 is equipped with the standard 186-horsepower 4-cylinder engine and 6-speed automatic transmission. A more powerful turbocharged 4-cylinder is available in the aptly-named Turbo, Turbo Premium, and Turbo Premium Plus trims.
So what does a CX-30 buyer get when sticking with the entry-level engine but opts to splurge on some of the goodies that come with the Premium? Let's highlight some of what the Mazda CX-30 Premium trim has to offer SUV shoppers.
2022 Mazda CX-30 Premium: $30,360
186-horsepower 2.5-liter 4-cylinder engine
All-wheel drive
8.8-inch infotainment display
Leather seating surfaces
Head-up display
Power liftgate
Satellite radio
Navigation
Adaptive cruise control
12-speaker Bose audio system
Traffic sign recognition
Paddle shifters
Based on its specs alone, the CX-30 Premium makes a compelling case for itself. With this trim, an SUV buyer can stick to a reasonable budget cap yet drive away in a vehicle that feels a cut above many rivals thanks to its ample safety, tech, and comfort features. This includes a long lineup of active safety items, such as blind-spot monitoring, rear cross-traffic alert, and driver attention alert.
We've already commented on the CX-30's sharp steering and agility, though its supple ride makes certain this sporty nature isn't marred by a bumpy ride over rough pavement. Power from the standard 4-cylinder is fine for everyday driving needs, while its EPA-estimated fuel economy of 24 mpg city/31 mpg highway is just okay.
What else is there to like about the 2022 Mazda CX-30 Premium? Oh, there's plenty, so let's explore some of our favorite features.
Premium Cabin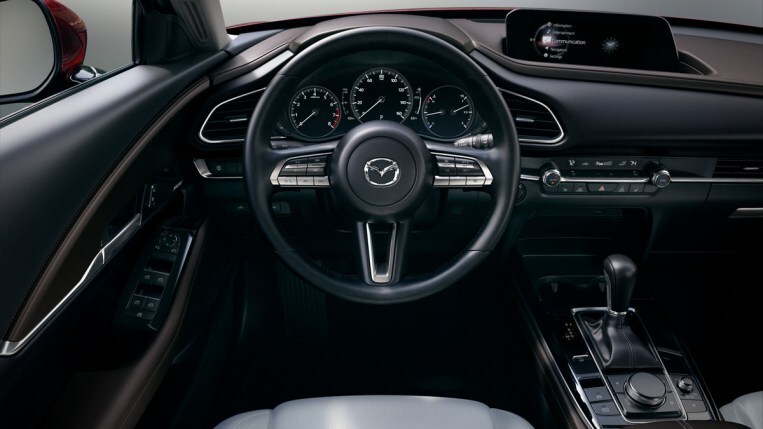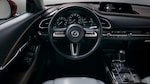 The general design and ambiance of the CX-30's cabin is simply a class above many of its small SUV rivals. Quality materials are used everywhere you look and touch, including the rear seating area — a place where many competitors skimp out by using cheaper plastics to keep the price low. That's not the case with the CX-30, especially when migrating upward to the nicely appointed Premium trim.
8.8-inch Infotainment Display
The CX-30 comes equipped with an 8.8-inch infotainment display, controlled by a rotary knob and surrounding buttons on the center console. Granted, it's not as intuitive as a touchscreen interface, though it becomes easy to use with a little practice and the menus are simple to navigate.
With the CX-30 Premium, you also get a wide roster of standard tech items, including Apple CarPlay and Android Auto, navigation, SiriusXM satellite radio, two USB ports, Bluetooth, and a Wi-Fi hot spot.
Safety Features
Even the base Mazda CX-30 comes with standard active safety features such as automatic emergency braking, forward collision warning, adaptive cruise control, lane-keep assist, lane-departure warning, and more. The Premium trim adds popular safety touches like blind-spot monitoring, a head-up instrument display, rear cross-traffic alert, automatic high-beam headlights, and traffic sign recognition.
Seating Comfort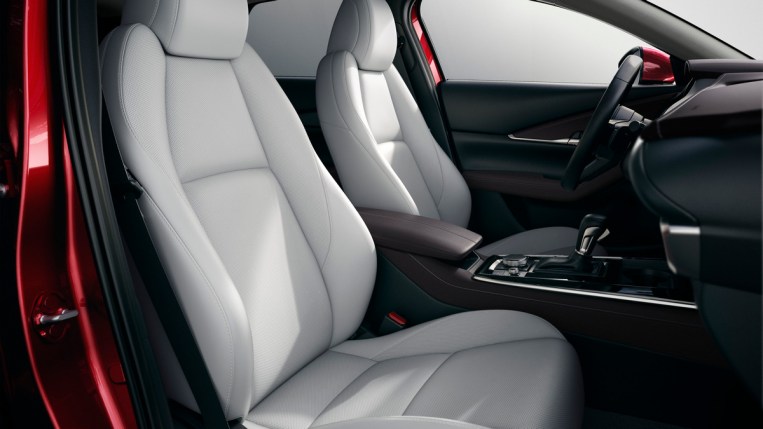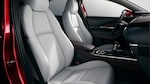 Real leather seating surfaces are one of the highlights of the CX-30 Premium. Not only do they look great, but they're also exceedingly comfortable while keeping you firmly in place when flinging the CX-30 around corners. Space in the second row is fine for two adults, though the 36.3 inches of rear legroom isn't exactly class-leading. Still, it's plenty for anyone who isn't shuttling an SUV full of NBA players on a regular basis.
Fun-loving Driving Nature
We know. We keep saying it again and again. But the fact that the CX-30 is fun to drive is something you don't expect in a small SUV with a modest price tag affixed to it. The quick steering and smooth ride make routine driving tasks a delight, and the CX-30's proportions ensure it's easy to park when hunting for a curbside spot.
Cargo Space
The CX-30 has a practical side, too. Behind the rear seats, there is a total of 20.2 cubic feet of cargo space. Lower the rear seatbacks, and space expands to 45.2 cubic feet.
More Mazda CX-30
Want to learn more about the CX-30 and how it compares to the competition? Read our full Mazda CX-30 review, or find Mazda CX-30 models for sale near you.