This Is the Most Popular 2023 Kia Forte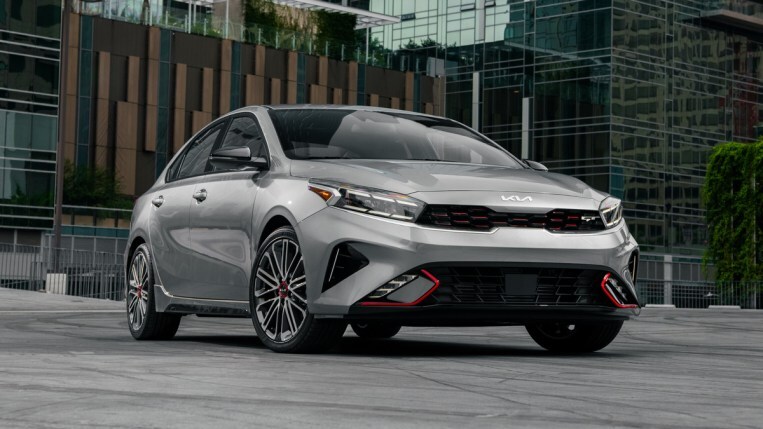 The 2023 Kia Forte is a compact sedan with seating for five, a roomy trunk, and styling that proves an affordable car doesn't have to be boring. It's the bold exterior of the recently redesigned Forte that grabs your attention first, but beauty is more than skin deep with this value-conscious 4-door.
There are four main trim levels to choose from in the 2023 Forte. We've crunched the sales numbers and the most popular of these is the Forte GT-Line. This sits above the entry-level LX and LXS trims, each of which shares the same 147-horsepower 2.0-liter 4-cylinder and continuously variable automatic transmission found under the hood of the GT-Line.
As you'd expect, fuel efficiency is the primary plus point with this engine. While acceleration is merely fine for everyday driving needs, an EPA-estimated 28 mpg in city driving and 39 mpg on the highway is comparable with rival compact sedans like the Honda Civic, Toyota Corolla, and Mazda3.
If you want added performance and don't mind more frequent visits to refuel, an optional turbocharged 1.6-liter 4-cylinder is standard in the range-topping Forte GT. That is also the only version of the Forte available with a manual transmission.
The Forte GT-Line's appeal is apparent in its long list of safety, tech, and comfort features. True, it's hardly a speedster and the ride is firmer than what you get in much of this Kia's competition. Yet, when you consider all that comes along for the ride with the Forte GT-Line, a lack of dynamic finesse is less of an issue.
Let's take a look at some of what the Forte GT-Line has to offer:
Kia Forte GT-Line: $21,690
10.25-inch touchscreen
17-inch alloy wheels
Wired Apple CarPlay and Android Auto
GT-Line body styling upgrade
Dual-zone climate control
Blind-spot monitoring
Safe exit assist
Rear cross-traffic alert
Leather-wrapped and flat-bottom steering wheel
Keyless entry and push-button start
Satellite radio
Kia Drive Wise driver assistance tech
Other than exterior and interior color choices, the bulk of the Forte GT-Line's options are grouped into three main packages. The GT-Line Technology Package ($300) is the least expensive and adds an electronic parking brake, navigation-based intelligent cruise control, and upgraded automatic emergency braking with cyclist detection.
Next is the GT-Line Sport Premium Package ($1,000) that includes heated and ventilated front seats, a 10-way power adjustable driver's seat, air vents for the rear seats, and a rear USB port.
The priciest of the three is the GT-Line Premium Package ($1,700) which takes everything you get with the GT-Line Technology Package, then adds ambient interior lighting, sunroof, wireless device charging, and a Harmon Kardon 8-speaker audio system.
When fully loaded, a 2023 Kia Forte GT-Line costs approximately $25,500, including the destination fee.
10.25-Inch Infotainment Screen
Bigger is better, at least when it comes to punching in commands on a car's touchscreen while driving. The larger 10.25-inch screen in the Forte GT-Line has crisp graphics and responds quickly to inputs. While the standard 8-inch screen is more than acceptable, the added acreage of the GT-Line's screen is a plus point.
One strange quirk of this system, versus the smaller 8-inch screen, is that Apple CarPlay and Android Auto need a wired connection. Ironically, wireless smartphone connectivity is standard with the smaller of the Kia Forte's two available infotainment screens.
LXS Technology Package
The GT-Line gets a welcome round of safety upgrades courtesy of the contents found in the LXS Technology Package. As the name suggests, this suite of safety items is optional in the Forte LXS trim, but comes standard in the GT-Line.
This brings with it blind-spot monitoring, safe exit assist, and rear cross-traffic assist. These are in addition to the forward collision warning, automatic emergency braking, lane-keep assist, lane departure warning, and driver drowsiness monitor that are all standard in every Forte.
GT-Line Styling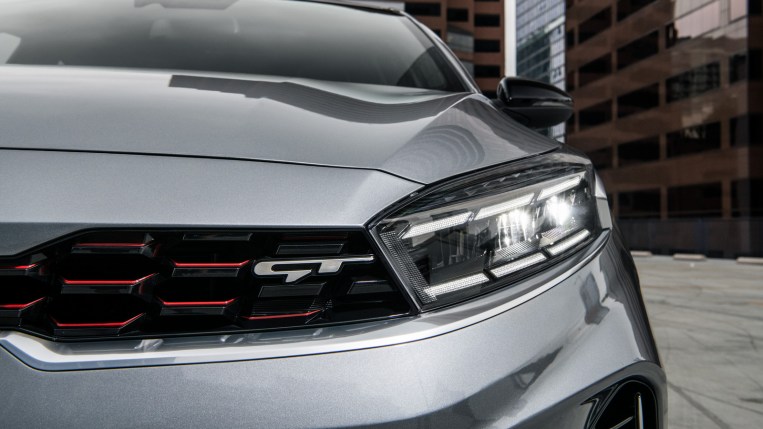 Just because you didn't spend a lot of money doesn't mean you have to putter around in an anonymous-looking ride. The 2023 Forte isn't bashful, yet the exterior is edgy without going too overboard. With the GT-Line you get a modest cosmetic boost courtesy of 17-inch alloy wheels, a small rear spoiler, and more aggressive front and rear bumper treatments.
The interior of the Forte GT-Line isn't forgotten. Inside you'll find a leather-wrapped and flat-bottom steering wheel, alloy pedals, and cloth/simulated leather seating surfaces.
Harman Kardon 8-Speaker Audio
A 6-speaker audio system is standard in the GT-Line and represents an auditory upgrade over the base 4-speaker unit found in the FE and LXS trims. If you prefer to amp things up a bit, Kia offers an 8-speaker Harmon Kardon system as part of the available GT-Line Premium Package.
Push-Button Start/Keyless Entry
When you're in a hurry or have arms full of bulky bags, not needing to grab your keys can be a glorious perk. With the GT-Line, a Forte customer gets push-button start, keyless entry, and a hands-free trunk lid.
More Kia Forte
Want to learn even more about the Forte and how it compares to the competition? Check out our complete Kia Forte review, or find Kia Forte models for sale near you.