Truck Tailgates: See All Your Options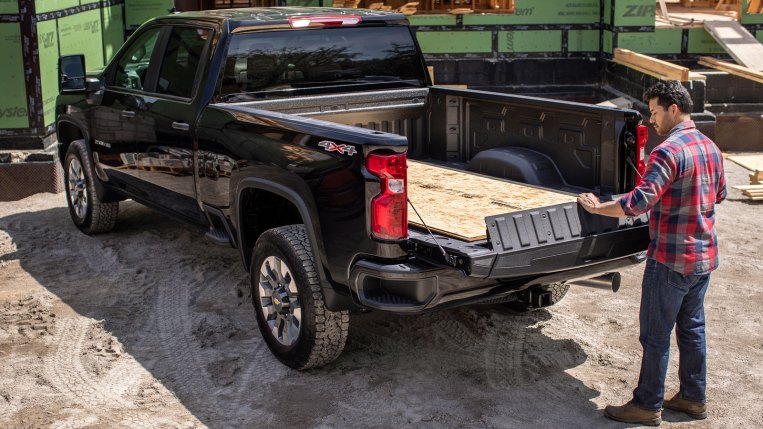 Pickup trucks
continue to beat out sales of other vehicles in the United States, and the tailgate plays a major role in the utility of such a vehicle.
Trucks offer up loads of great features. They're powerful and have a ton of utility, and you can both work and play in them. Tailgates play an essential role in the function of these versatile vehicles.
We'll tell you about tailgates and how they function. We'll provide a comparison of the different types so you can determine which tailgate you like best when deciding which truck works best for you.
What is a Tailgate on a Truck?
A truck's tailgate is the entrance to the truck bed. But the tailgate can serve many different purposes, from a pregame party area during football season to an outdoor workstation. The tailgate also serves as a step stool, an aid to help load and unload cargo, and a measuring tool. It can also hold coffee cups or speakers for music, and much more, depending on what your truck comes with or what you add on when you make the purchase.
Manufacturers try to one-up each other by offering different functionality in the tailgate department.
Ram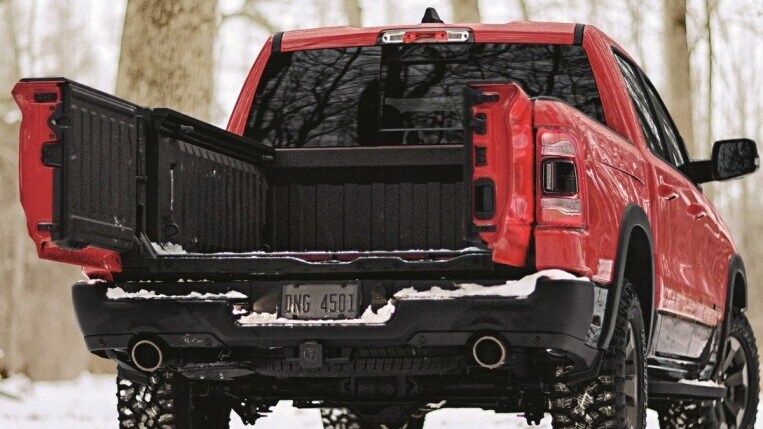 Let's start with Ram's multifunction tailgate, which first appeared on the 1500. It comes with dual side hinges, so it opens like French doors but in a 60/40 split. You can swing it open from the left, right, or middle. There's also a retractable center-mounted step option to make bed access easier. And of course, the tailgate operates normally, is fully dampened, and can have a remote opening option.
GMC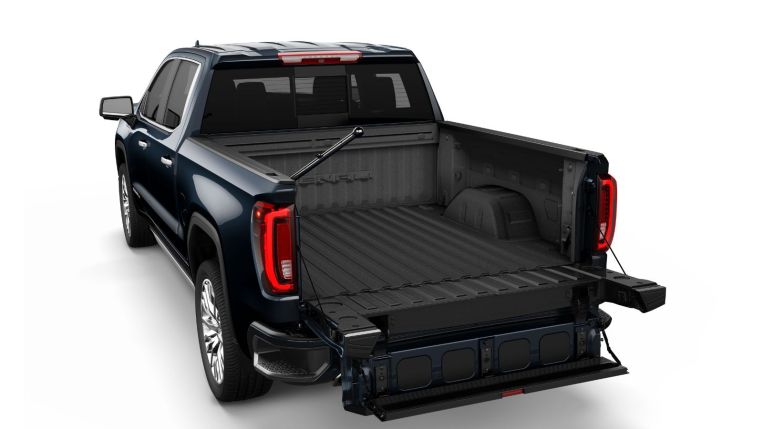 GMC's answer is the MultiPro tailgate. This has more options than the one from Ram, but they're different. There are no barn doors, but you've got a smaller tailgate inside the tailgate to use for different jobs, like holding longer items in place. You can also use it as a step for easy access, or as a work surface. Two buttons operate the tailgate, or you can open it from inside the cab.
Ford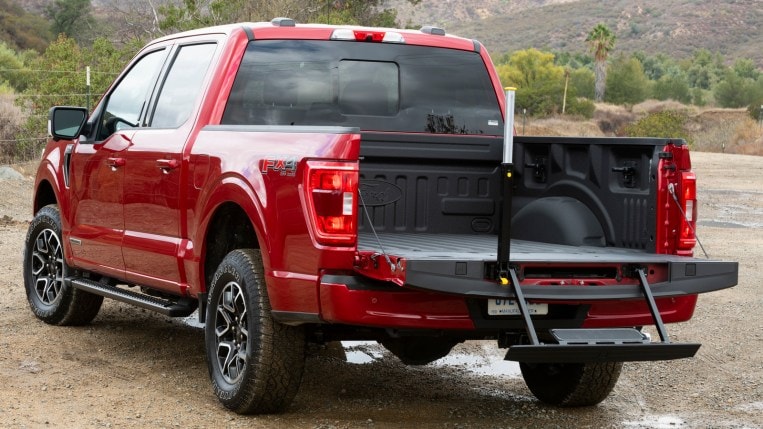 Ford's F-150 tailgate doesn't flip out or open sideways, or at least not yet. But you do get a lot of functionality with it. Pencil holders, a ruler, phone and tablet nooks, and yes, a cup holder for your coffee. You get a cleat system and clamp pockets on either side. Ford also gets the step down for easy bed access. And, on the smaller Maverick, Ford offers up a QR code that will give you tips on how to DIY some organizing systems for different tasks.
Chevy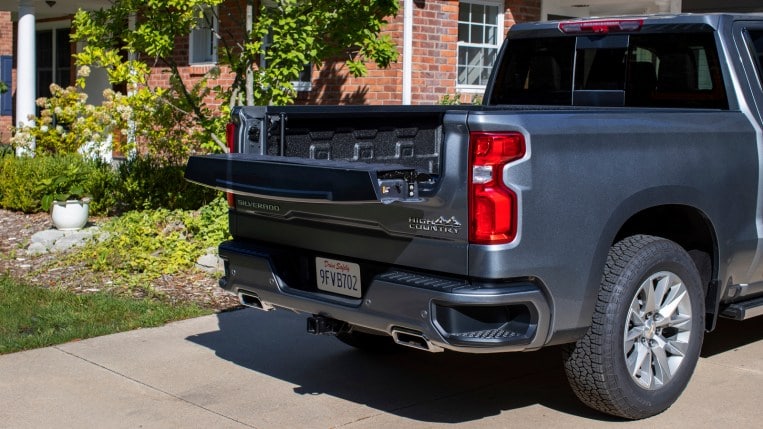 Chevy's Multi-Flex tailgate is the same as GMC's MultiPro, just with a different name. It can become a standing workstation, or you can configure it for easier load-in for your cargo.
Midsize Trucks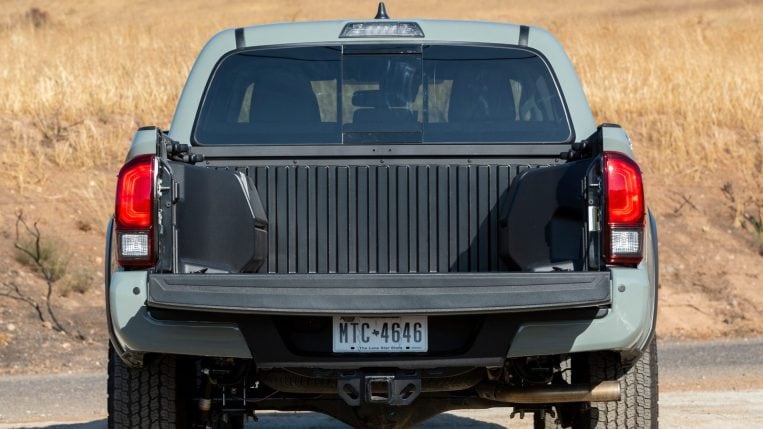 When it comes to midsize trucks, most offerings from Toyota, Nissan, and Chevy all have simple tailgates, functional but basic. The Honda Ridgeline is the only one to offer side hinges so it can swing open fully sideways for easy access.
Electric Trucks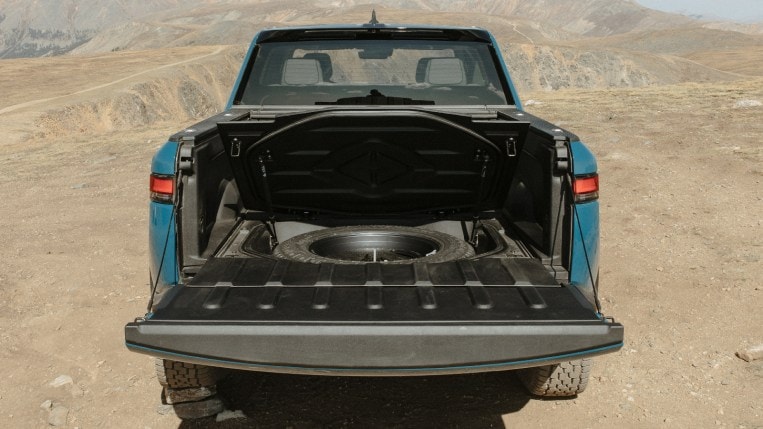 EV trucks are coming fast and furious, and the Rivian R1T gets a fully dampened tailgate that you can open remotely. You also get the gear tunnel, which is super cool. There is no additional functionality currently, but Rivian has filed several patents for things like a step and other features that might show up in the future.
Full disclosure: Cox Automotive, Kelley Blue Book's parent company, is a minority investor in Rivian.
Which Tailgate is Right for You?
There truly is only so much you can do with a tailgate, so we love that companies are getting super creative with their approach. After all, competition is a win-win for every truck buyer out there.
Related Stories About Trucks: